What is the Best Fan for Sleeping?
The ultimate winner of our editor's picks is Honeywell Quiet Set Tower Fan which delivers quiet & powerful cooling efficiency. Integrated oscillation, 8-speed settings & auto shut-off enhances the functionality. Best fans for sleeping at affordable prices, the improved quality of air circulation reduces the consumptive use of electricity to save your wallet.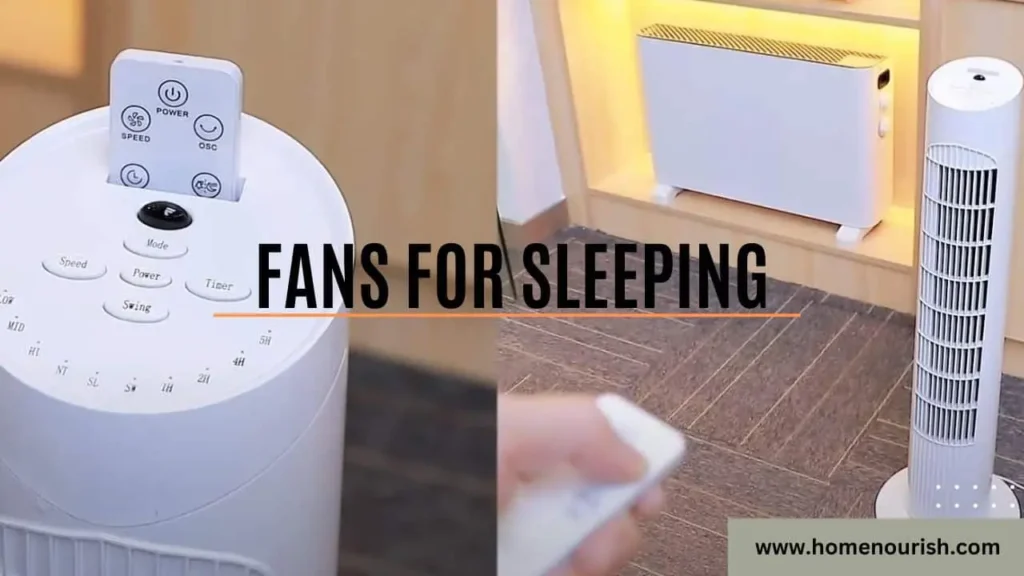 Introduction:
Fans are undeniably one of the most basic requirements when it gets to electrical appliances. And to enjoy a sound sleep or soothing relaxation, the fan is one indispensable accessory. There are lots of models available with a wide variety of designs & functions which makes the choice difficult.
With our review, you can easily invest in the best fans for sleeping at night. Taking the basic & most useful features into consideration, we have the perfect 10 to make your sleep comfortable.
How to Choose the Best Fans for Sleeping
Fan Type:
There are basically four types available – oscillating, tower, table & ceiling fans. With oscillating ones, you can have the most extreme airflow.
Among these, tower fans are the best kind. For modifying stature, table fans hold great rather than tower ones.
Noise Level:
All the fans come with more or less noise generation. With an annoying clamor, using any fan can get extremely disturbing. The humming sound mustn't exceed the white noise level.
Room Space:
How much space you are about to cover is obviously an important consideration. If the room isn't big, then most of the good-quality fans hold sufficient.
Size & Design:
A bigger size means larger blades & therefore, greater noise. You have to take good care while checking these criteria. If you want something stylish, you need to ensure quality.
Air Circulation:
The circulation of air should maintain reasonable consistency. A continuous drop in temperature will create more problems against cool breezing.
Oscillation:
To cover a bit larger space, you can rely on oscillating action. With good oscillation & rotational adjustment, you can control the airflow direction to attain further coverage.
Customization:
With a good fan, your expectation obviously comes with speed settings. The available number of settings is likely to differ as per models.
But you have to ensure the presence of at least 3 basic settings (low, medium & high).
Fan Speed Calculator According to Room Temparature
Here Are Details of Some Best Sleeping Fan for Bedroom
The long list of available choices finally gets narrowed down here based on customer preference, and ratings. Here goes our topmost selection of the 10 best fans for sleeping for your purchase meeting the basic requirements.
1. Honeywell Quiet Set Tower Fan
Maximum personalization for the cooling & sound control through QuietSet Technology. Auto shutoff & dimming with 5 customizable settings induce perfection at every level.
Product Description
Combining a sleek profile with functional construction, the Best Tower Fan for Sleeping holds perfect for any home. Equipped with QuietSet Technology, the tower fan ensures year-round quietness & efficiency.
The best fans for bedrooms come with 8 integrated speed settings, allowing you to have the utmost control over cooling & sound. Also, you can induce an automated shut-off timer for 1, 2, 4 & 8 hours. With a simple touch, electronic buttons & an automatic dim of 15 seconds keep it suitable for bedtime use.
Pros
Powerful whole-room oscillation cooling.
Incredibly quiet with the least noise generation.
Built-in power settings & remote control.
Reduced energy cost with improved airflow.
Easy setup without any tool requirement.
Cons
Poor quality base material.
Greater noise in the black model.
2. Vornado 630 Air Circulator Fan
Patented Vortex Technology gives overall circulation through an aerodynamically moving grilled pitch blade is the best fan for sleeping white noise. With 3 integrated customizable settings, the noise level remains within 43 – 52 dB.
Product Description
Convenient air circulation rather than being stagnant inside the room ensures maximum comfort. The deeply pitched propeller imparts an aerodynamic circulation inside a unique signature grill.
With the best fan for small rooms with contoured blades maximized, airflow can get moved about 70' distance. Featuring a cylindrical duct, the pitch blades induce a high-velocity air sculpting column to power the cold & hot areas. Using the mechanical switch, the air circulator fan offers superb maneuverability over the performance through 3-speed settings.
Pros
Great efficiency with energy-saving performance.
Superior air circulation through the grilled propeller.
Customizing operation using 3 integrated settings.
Increased airflow through inlet air accelerator.
Deep pitched blade ensures quieter operation.
Cons
The front face requires careful maintenance.
Generated noise may bother certain users.
3. Lasko 4924 HighVelocity Blower Fan
Considering the necessity of high-velocity flow, both construction & functionality are available with one of the best quiet fans for sleeping. Great customizing options are featured with safety tech & elective oscillation.
Product Description
Streamlined construction teams up with a powerful motor to meet your demand for high-velocity airflow with the best cooling fan for the bedroom. Year-round cooling is guaranteed with optional oscillation to cover large-sized rooms.
Integrated louvers come with reasonable adjustability using lever movement. For the 3-speed customizable settings, the dial gauge initiates optimum ease. The most unique feature concerns equipment safety over faulty electrical current. In fact, patented Blue Plug Technology features a fused cord to detect electrical hazards.
Pros
Compact & streamlined construction.
Three built-in powerhouse settings.
Directional louvers with oscillation.
Simple control using an easy dialing gauge.
Full assembly features a carrying handle.
Cons
Slightly higher noise level.
Only basic-level oscillation.
4. Lasko 4930 Oscillating High Velocity Tower Fan
Generating high-velocity air, the best cooling tower fan is capable of breezing the entire space within seconds. Adjustable louvers, speed settings, LED display & oscillation – all get packed within one.
Product Description
Powerful motor integration results in superior functionality to deliver a cooling breeze around. Being streamlined, this quietest tower fan allows even airflow distribution & cools down the entire room.
Directional louvers with lever adjustability offer greater performance using oscillation for further coverage. Maneuvering is incredibly easy, thanks to the LED display for selection & wireless remote control. The full assembly permits 3 built-in powerhouse speed customization along with automated shutoff for 1, 2, or 4 hours.
Pros
Sleek body with efficient performance.
Integrated settings for customization.
Safety fuses to detect electrical faults.
Four convenient buttons for maneuvering.
Wireless remote control with oscillation.
Cons
Frequent blade cleaning is necessary.
LED seems annoying for nighttime use.
5. Rowenta Turbo Silence Stand Fan
Ultimate silence prevails while cooling off the entire room even with the turbo boost. The best standing fan for the bedroom comes with convenient user customizing options through the built-in electronic control panel.
Product Description
Ultimate quietness & intense power keeps this best electric fan suitable for office/home throughout the year. The 16-inch pedestal fan gives powerful cooling whereas producing a maximum of 35 dB noise only.
Reasonably fast cooling through 2436 cubic feet/minute flow rate offers oscillation for broad room coverage. The best pedestal fan for the bedroom has 5 blades, you can customize it through 5 different settings including Turbo Boost & Silent Night. Having a remote control facility, you can set the energy-saving mode & an 8-hour timer.
Pros
Incredibly low generation of noise.
Great maneuvering with 5 settings.
Quick coverage through oscillation.
Height adjustment ranges 42" – 54".
Electronic control & built-in storage.
Cons
Rusting of grills can occur.
Overall plastic construction.
6. Ozeri Passive Noise Reduction Tower Fan
The outstanding construction of the stylish innovation permits 3 individual speeds for each of the 3 independent fans. With 5000 CFM speed & easy feature accessibility, optimum air circulation for the room is guaranteed.
Product Description
Unrivaled technology includes outstanding design & incredible functionality to provide remarkable flow. Being one best fan for white noise while sleeping, all 3 fans come with independent workability.
The utilization of blade curvature physics isolates the soothing airflow sound ensuring minimal blade noise. The digital décor allows 9 particular levels of customization associated with whisper-quiet 90° oscillation. Featuring a touch-sensitive LED panel & extended remote control range, you will enjoy easy access to the built-in settings.
Pros
Great engineering to reduce noise levels.
5-hour timer with a 30-minute increment.
Easy feature accessibility & quiet oscillation.
Superb circulation through 5000 CFM rate.
3 specific airflow models for each fan.
Cons
Slight wobbling at a lower speed.
Tightening base screws is difficult.
7. Honeywell Fresh Breeze Tower Fan
A slim construction that contains a programmable thermostat, customizable speed, and air filtration system. Good & quick airflow distribution along with easy operation will increase the comfort for sure.
Product Description
Imparting a spring feeling for the entire room throughout the year, this best oscillating fan holds incredibly suitable. Great oscillating action with a number of useful features provides a fast & comforting breeze.
With a programmable thermostat & 3 particular speed settings, you get to switch the right option and best fan to sleep with. Electronic LCD display, flashlight-supported remote control & customizing panel ease the operation. A washable filter helps with cleaning whereas automated shutoff functionality saves your electric bill.
Pros
Oscillating action for quick breezing.
Easy nighttime use with remote control.
Simulation of gentle movement of air.
Auto shut-off comes with quick assembly.
Simple cleaning through the washable filter.
Cons
Somewhat higher oscillating noise.
Handling remote is initially difficult.
8. PureFlow Bladeless Quiet Table Fan
 Unique no-blade construction offers all-directional airflow & safety while saving your electricity. Utmost comfort is ensured through 12 specified settings to customize the circulation speed.
Product Description
The unique design for the best table fan comes with user safety & energy efficiency. The best portable fan for bedroom's bladeless design is capable of providing a gentle breeze to a gusty wind.
With 90° horizontal oscillation & 90° vertical tilt, consistent temperature prevails through the quick cycling of cool air. Being bladeless to keep the pet & children safe, the best fan for toddler room requires merely 2 W power. And 12 different settings allow you to get the perfect wind to keep you relaxed.
Pros
Unbelievably low noise of 13 dB.
Next-generation bladeless design.
Easy customization with remote control.
Functionality through 12 particular speeds.
Up to 30' multi-directional airflow.
Cons
Faint click for oscillation may occur.
Not the most useful timer function.
9. BedJet 3 Climate Comfort for Beds
 Perfect installation to enjoy cool/warm air for beds/mattresses. It doesn't require any wires, electricity or tubes. With the high techs, you will have one of those smart Fans that feel like air conditioners.
Product Description
With perfect control over the bed temperature, the system introduces cooling & heating airflow. This is more like an air conditioner rather than a simple fan to install in any bed or mattress.
The dual-zone bundle induces independent temperature to deliver dry & fresh air quietly. The biorhythm cycle is programmable, allowing you to asleep faster. Improved & advanced remote control provides ease of use.
Pros
Powered ventilation warming/cooling.
Temperature controlling biorhythm.
Compact & compatible construction.
The instant result to eliminate body sweat.
Faster & longer sleeping efficiency.
Cons
The remote layout isn't user-friendly.
Hidden light requires special attention.
10. Dyson Pure Cool Air Purifier and Tower Fan
With unique appeal & functionality, it breezes fresh air removing pollutants. Automated sensing & displaying the report on LCD makes this best floor fan more than just a cooling agent.
Product Description
Quiet tower fan with air purifier designed to circulate properly, the best fan for sleeping holds sufficient to purify the air every time. Apart from cooling the room, air pollutants get cleaned to a great extent with the unit.
Featuring a 99.97% efficient HEPA filter, automatic action takes care of ultrafine particles, allergens, nitrogen di-oxide & volatile organic compounds. Alexa voice control & 350° oscillation helps with the maneuvering to influence the flow direction.
Pros
Purifying & cooling functionality.
Alexa voice control enabled.
Wi-Fi connectivity for the Dyson app.
1 – 10 settings with slight noise.
HEPA filters air pollutants.
Cons
Control isn't possible without app.
Greater noise on the highest setting.
There is the newest version check here: Dyson Air Multiplier Table Fan
Verdict
Choosing the right fan bears great importance if you want to have a decent sleep. The aforementioned review is based on practical considerations to deal with real-life circumstance. Going through our picks should help you to make the investment in the best fans for sleeping to go on for years.