There are lots of airborne particles to affect negatively your health. Even the windows & doors are unable to block the entrance of harmful impurities. A portable air purifier can help to capture pollutants to a great extent. Maintaining a cleaner environment, the indoor air remains fresh to improve your health.
But choosing the best one is rather tricky, no thanks to the lots of junk & garbage purifiers. From lots of good-quality models, we picked the best air purifiers under $100 you can consider for fresh breath.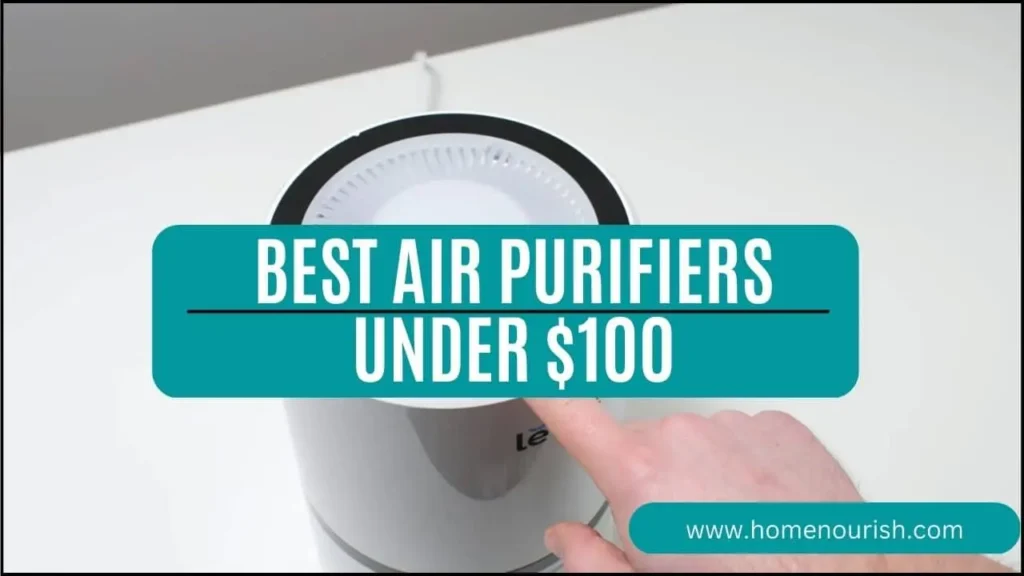 Guide for Air Purifiers for Smoke Under 100
It's important to invest in the right one for cleaning out the air. Certain considerations while buying can help you with choosing the best system.
Functionality:

There are several types of filters available for purifying the air. Being the gold standard, HEPA (High-Efficiency Particulate Air) filtration gets no parallel. With the True HEPA Filter label, the efficiency can reach about 99.97%, capturing 0.3-micron particles. Its effectiveness helps to improve the air condition for respiratory problems.

Control Settings:
The motor speed is mostly rated at 3 different speeds. The control panel should have buttons for speed control. It should include timer options to initiate automatic shutoff. Night light, replacement indicator & child lock can add further convenience.

Device Placement:

Many customers complain about effectiveness, even with the best-rated ones. Placement is one important yet underrated issue. For HEPA filters, the highest quality can't cut in; if you place it in narrow or confined spaces. To receive the best functionality, place the system in some space regarding its position.

Replacement:

Regular maintenance of the filter is one major consideration. It directly depends on the average lifespan of the integrated filter & its use. The maintenance basically concerns with filter replacement. While purchasing, you have to check the cost of replacement parts. There are now several high-quality filters without requiring any replacement.

Space Coverage:

Most of the purifiers are designed for home use. Some others can serve as house & office spaces. The coverage varies according to model & filter efficiency. For decent coverage, 150 – 180 sq. ft holds good for domestic purposes. Meanwhile, the system for commercial use can serve up to 300 – 350 sq. ft of space.

Noise Level:

One of the most important things is the noise produced by wind speed. Many cheap & low-quality purifiers generate unbearable, distracting noise. You have to check out the noise level for each speed setting quite well.
10 Best Air Purifiers Under $100
Knowing the important considerations, you can easily choose the right purifier. To avoid confusion, we picked the best 10 right here. Let's get down to exploring what each best purifier has to offer.
1. Pure Enrichment PureZone Air Purifier
Powerful neutralization of allergens, dust & bacteria is the style of Pure Enrichment Purifier. Its 3-in-1 functionality includes the individual efficiency of active pre-filter, HEPA filter & UV-C filter.
With True HEPA filter, it can capture up to 99.97% of household dirt & odor. Taking part in micro-organism destruction, UV-C + photocatalyst filter encourages the output. The best budget air purifier covers 200 sq. ft producing reasonably low noise.
For the sleek portable design, there comes an intuitive control panel. With 3 speed settings, there are different timer options. The built-in handle initiates great portability.
Pros:
Sleek design, and good portability.
Sufficient coverage of rooms.
Powerful 3-in-1 functionality.
Both speed & timer settings.
Easy assembly within minutes.
Cons:
No turning off for Blue LEDs.
Control buttons have no light.
2. Germ Guardian True HEPA Filter Air Purifier
Purifying the air, Germ Guardian Filter lets you breathe fresh. The integrated True HEPA filter features an additional UV-C light filter. it kills viruses & germs, trapping allergens to filter the odor.
The AHAM-certified purifier can clean the polluted air up to 99.97%. Thanks to titanium dioxide, the light filter can reduce volatile organic matter. With 4x speed, the inexpensive air filter can cover up to 167 sq. ft of space.
Having a sleek & thin design, it easily fits into the room size. The control panel lets you choose the right setting. Concerning the noise, even the highest setting provides a bearable sound.
Pros:
Efficient 3-in-1 functionality.
Extended lifespan of filters.
UV-C filter with active TiO2.
Convenient coverage of space.
Quiet operation for settings.
Cons:
High brightness of strip LEDs.
Loud noise at the highest setting.
3. VEVA 8000 Elite Pro Series Air Purifier
The premium quality system bears a greater value than the VEVA Elite Purifier. Its tower profile is suitable for both household & commercial spaces. There are 4 activates carbon filters for the featured HEPA filter.
The cheap True HEPA air filter easily captures .3 micron particles. With charcoal nano-technology, the pre-filters remove unwanted odor from the air. Apart from the microbial, it holds effective for pet dander, spores & PM2.5 particles.
Removing the base can turn the tower system into a tabletop purifier. For the 3-stage fan speed, you can get ultra-quiet to the turbo. Without UV or Ozone, the system can initiate auto shut-off.
Pros:
Quality built & performance.
4 activated carbon pre-filters.
Base removal for ease of use.
Incredible 325 sq. ft coverage.
Cheap yet good replacement.
Cons:
A slight breeze may take place.
Somewhat limited intake size.
4. GENIANI Home Air Purifier
Purifying the home interior, Geniani gives you a literal breath of fresh air. The HEPA filter induces great efficiency in removing dust & allergens. It also eliminates the odor to encourage air freshness.
Its sleek profile & compact shape helps you to install it easily. Having ARB certification, the high-quality, affordable air filter offers a 3-stage filtration. The additional carbon air filter fights bacteria & germs in the air.
Thanks to the integrated nightlight feature, it cleans the air when you're out. There come 3 paces – slow, medium & fast. Completely silent operation prevails all along even at the highest pace.
Pros:
Highly efficient HEPA filter.
Incredible quality & output.
Reasonable speed settings.
Additional nightlight option.
Up to 160 sq. ft of coverage.
Cons:
Startups may seem slow.
The filter isn't re-washable.
5. PARTU Air Purifier True HEPA Filter
The powerful functionality of the Partu purifier brings freshness to the air. With 5 inner layers, the filtration can take out 99.97% of pollutants. Pollen, mold, PM2.5, smoke & odor – one unit to treat all at once.
Through the anion + cation system, the dust gets on the ground for removal. The activated carbon filter wipes out everything harmful to your lungs. The powerful motor of the best low-cost air purifier can cover up to 160 sq. ft of space.
There come 7 different colors for the changeable nighttime LEDs. Furthermore, the control allows 3 levels of setting. Producing 25 dB noise, you can enjoy the freshness without getting distracted.
Pros:
Integration of powerful motor.
Effective dust, and allergen removal.
Optimum silence with speed.
7 dim colors of changeable LEDs.
Suitable for different rooms.
Cons:
Very bright indicator light.
Rather expensive replacement.
6. LEVOIT Air Purifier for Home Allergies
Combining innovative features, air freshness requires one tap with a Levoit purifier. Lowering energy consumption, promises to give cleanliness. The powerful filtration having 3 individual units delivers seamless functionality.
Despite its simple & compact size, the energy-efficient air purifier under $100 delivers maximum performance. Promoting better stability, the brushless motor induces greater longevity. For the activated carbon, an integrated CTC100 formula delivers effective odor removal.
Thanks to its 360 intake, it can offer satisfaction anywhere. The control panel features 3 fan speed settings & 3 timer options for automated shut-off. Covering 161 sq. ft at maximum, the system can suppress the interior circulation.
Pros:
Powerful, efficient filtration.
Lower energy consumption.
Customizable nighttime light.
Incredibly low noise levels.
Timer setup for auto-shutoff.
Cons:
7. Hamilton Beach TrueAir Air Purifier
Designed for pet owners, Hamilton TrueAir Purifier provides complete air protection. The triple filtration results in a high-performance system. Its portable, compact profile fits anywhere.
With a true HEPA filter, the purification can reach up to 99.97%. Apart from basic features, there are two zeolite replacement filters. The most affordable HEPA purifier easily deals with pet hair, dander & airborne pollutants up to 3 microns.
Both horizontal & vertical positing is possible to utilize its 140 sq. ft coverage. Using a vacuum cleaner, no replacement is necessary for the permanent filter. The overall operation remains extremely quiet for 3-speed settings.
Pros:
Permanent HEPA filter system.
Specific design targets pet odor.
Quiet operation at all speeds.
Great coverage of 140 sq. ft.
Cleaning without replacement.
Cons:
Not very energy-efficient.
Weak plastic railing bars.
8. Germ Guardian True HEPA Filter Air Purifier
The 3-in-1 purifier by Germ Guardian gives a breath of fresh air inside. Whether it's a house or office, the system delivers excellent improvement t of air quality. It is also very effective against pet odor & dander.
Having AHAM verification, the best true HEPA air filter captures 99.97% dust & pollens. Thanks to the antimicrobial agent, no microbial growth takes place on the surface. The pre-filter addition extends the filter lifespan.
The control panel offers a 3-speed setting with one optional UV-C light. There comes a programmable timer & ultra-quiet sleep mode. It's suitable for medium to large rooms – covering 157 sq. ft.
Pros:
Long-lasting filter functionality.
Active charcoal reduces odor.
Customizable control settings.
Sleek & modern appearance.
Ultra-quiet purification speed.
Cons:
High brightness of UV LEDs.
Somewhat whirring sound.
9. MOOKA True HEPA Air Purifier
With quality assurance, the Mooka purifier delivers effective, safe air filtration. The integrated HEPA filter neutralizes dust, and pollen & traps allergens. Reducing the odor, the system gives fresh air.
Having a modern design & stylish outlook, it simply blends into the overall décor. The cheap air purifier for home filters the room air up to 5 times an hour. For the 3-stage filtration, it revitalizes the air with 323 sq. ft coverage.
The 3-speed motor ensures stable performance. There come speed settings with bearable, not annoying noise. It also features 3 different intelligent timer options.
Pros:
Complete 360 deep purifications.
Functional 3-in-1 filtration system.
3 speed & 3 timer setting options.
Unique design with silent operation.
Larger coverage of 323 sq. ft space.
Cons:
Difficult to understand differences.
Loud noise at the highest speed setting.
10. hOmeLabs Air Purifier for Home
The superior functionality of the hOmeLabs purifier results in the removal of microscopic pollutants. The system features a true HEPA H13 filter. Thanks to its powerful filter, it captures particles as small as 0.1 microns.
Despite its rather compact construction, the best budget-friendly air filter can cover about 195 sq. ft space. The 3-stage effective filtration removes about 99.97% of impurities. The estimated life span counts 2100 hours depending on air quality & usage frequency.
Likewise, the control panel allows speed settings without exceeding 50 dB of noise. The flashing indicator reminds you to replace the filter. With night light & child lock, it offers greater convenience.
Pros:
Quite a powerful HEPA H13 filter.
Removal of microscopic particles.
2100 hours of 3-stage filtration.
Easy control of circulation speed.
Greater coverage, sleek design.
Cons:
Not a very good odor removal.
Noise may increase after use.
Verdict:
Modern purifiers are a blend of advanced technology & effective functionality. Whether it's home or office, you have to stay away from impurities all along. With a careful choice, you can certainly attend improvements to the circulation of polluted air. The best air filters under $100 here can give relief from breathing in harmful particles. No matter what your ultimate filter is, you will receive satisfaction.