The Best Air Purifier for Over 1200 sq ft in 2023 – Complete Guide
Air Purifier CADR Calculator
For large areas like hotels, offices, hospitals, living rooms, and restaurants must-have air purifiers to filter the polluted, contaminated, and toxic air.
But which is the best air purifier for over 1200 sqft that would help to remove at least 99% bacteria and allergens from the air? Well, there are a number of air purifier products on the market. But not all of them work well in a large area.
Hence, to make your job easy, we're adding some of the best whole-house air purifiers and describing their characteristics and benefits. So, let's start.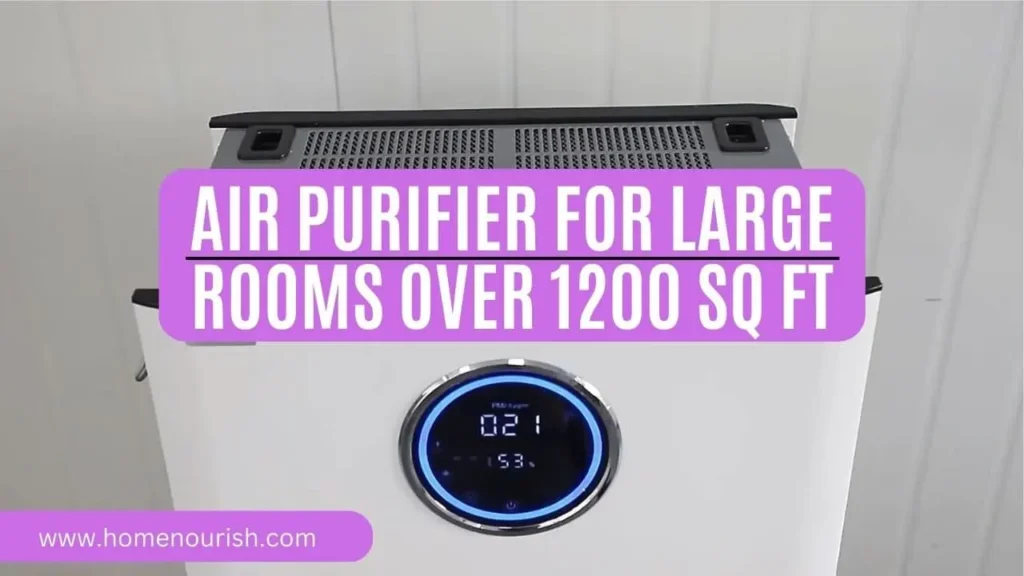 Guide- Best Air Purifier for Large Rooms Over 1200 sq ft
There are a couple of things that play important in the effectiveness of the purification of the filter. Avoiding those characteristics might lead you to purchase the wrong air purifier for your house.
Hence, to select the ideal air purifier, it is necessary that you judge the following factor very carefully.
The most useful factor that you must check is how much area your air purifier can cover to clean the air efficiently. Because if you purchase a 500 sq. ft. air purifier for covering 1200 sq. ft. area, then it's totally a waste of money.
So, buy that air purifier that meets the demand of your area coverage.
Airflow Circulation Rate:
To purify the air from germs and smokes more effectively, the circulation rate or CADR should have a good rating. A good CADR can pull more airborne particles from the air and cleans the air within a short time.
As large air filters are comparatively big in size, it's important to check height, width, and weight properly in order to accommodate your place. Picking a huge air filter that doesn't match with your space is not worth it.
Again, a stylish and attractive-looking air filter can add more beauty to your home or office. So, pick something that goes with your space.
Check what type of functionalities are present in the air purifier before buying. Auto mode, sleep mode, noise level, fan speed adjustment, and light indicators are present that are manually or automatically changed to adjust to the particular environment.
So, check all the functions and modes properly for smoothly running the air filter.
Different air purifiers have different stages of filtration processes that filter the pollutants from the air. Basically, a pre-filter is the first stage that captures dust, debris, and fur and you can reuse it several times.
Next, the HEPA and activated carbon filter blocks the germs bacteria, smoke, and odors that are harmful to humans and pets.
Therefore, consider all these buying tips while purchasing any air purifier.
The 5 Best Air Purifiers for Over 1200 sq ft
2. Alen BreatheSmart Large Room Air Purifier.

4. Medify Air MA-112 V2.0 Air Purifier.
5. JOYA Medical Grade Large Room Air Purifier
There are many overwhelming air purifier products but most of them are insufficient or do not provide the best result in large room coverage of 1200sq ft. So, for the best air purifier with a cooling effect check out the following products.
1. CowayAirmega 300 Smart Air Purifier
CowayAirmega 300 is designed with a combination of activated carbon and a true HEPA filter that successfully cleans the air up to 1256 sq. ft. area.
But that's not all. All types of microns, allergens, smoke, and organic compounds can be filtered up to 99.97%just by using the five modes of the purifier. Based on the quality, function, and smart-enabled features, Airmega 300 air purifier is now at the top list.
Furthermore, it comes with a filter lifetime indicator for both the Max2 filter and washable pre-filter. The washable pre-filter catches large dust particles from the air. Also, the LED ring indicates how clean or polluted the air is every minute.
Hence, if you're seeking a strong and best air purifier for large rooms with excellent coverage of 1256 sq. ft., then there is no alternative to Airmega 300 air purifier.
Pros:
Smart ready feature interface present
Monitors real-time air quality
Portable and mobile
Auto speed adjustment
Indicates replacement warning
Cons:
Wi-Fi or app connection absent
2. AlenBreatheSmart 75i Large Room Air Purifier, 1300 Sq ft.
AlenBreatheSmart is a powerful air purifier that covers an area of 1300 sq. ft. and is capable of capturing all the airborne particles from the air every 30 minutes. On top of that, with the latest improved fan power from the predecessor, it can be considered as the best air purifier for allergies, dander, and dust particles.
The 347 cfm CADR present in the purifier assists in exchanging the air 5 times per hour. The improved technology of the Laser Smart Sensor and HEPA pure filter is certified to clean at least 99.97% of airborne dust particles the air.
It is built with perfection and provides an exclusive lifetime warranty. Excellent! Right? In fact, this air purifier comes in various colors. And you can choose any one of them matching with your interior decoration and design
Pros:
Easy-to-read display
Nearly low-noise air purifier
Attractive and stylish design
Advanced purification technology
Effective intelligent LED indicator
Cons:
3. AIRMEGA 400S The Smarter App Enabled Air Purifier
With an amazing pre-dual filter of 4 stages of Max2 filtration, Airmega 400S is capable of covering a huge area of 1560 sq. ft. This air purifier changes the air two times per hour.
Again, a HEPA filter, odor-reducing activated carbon filter, washable pre-filter, etc. together will make the air of your room clean and free from toxic, germs, and dust. The fan speed is automatically adjusted by the purifier depending on the amount of air pollution.
Not to mention, Airmega 400S with its advanced features and services can be your first priority, if you want the best air purifier for viruses and germs. You can also control all the modes and functions from your mobile app with just by one click. Its excellent performance, services, and coverage capacity will not disappoint you.
Pros:
Consistent airflow delivery
Well built
Enables auto eco and sleep mode
Smart integration and intelligent design
Cons:
Low CADR
Replacement is costly
4. Medify Air MA-112 V2.0 Air Purifier
With the highest coverage area and CADR 950, Modify Air Purifier is a noteworthy air purifier for 3000 square feet. Actually, it covers an area of 3700 sq. ft. that is built with a top grade of HEPA-H13 filter.
Several modes and functions are present including an ionizer, fan speed, and child lock that helps to clean the air very quickly. The air purifier is so compact that you can easily move the purifier to any space with the help of its hidden wheels under its body.
It has simple easy settings with an advanced touchscreen panel by which you can easily control different modes without any difficulty.
It filters away all the harmful bacteria and germs which are harmful to humans. You will be very happy with the overall health and clean quality and can experience fresh and healthy air every time.
Pros:
Compact and easy handling
Highest CADR rating
Easy filter replacement
Powerful and efficient for large areas
Cons:
Slightly high power consumption
Comparatively short lifespan of the filter
5. JOYA MIA O2 Flow Large Room Air Purifier
JOYA MIA air purifier comes with a three-layer filtration process to get the purest air, leaving an amazing experience of healthy breathing every day. With different amazing features including a timer option, light indicator, sleep mode, etc. makes JOYA MIA the perfect air purifier for 800 sq. ft.
Moreover, it's highly recommendable for those people who have allergy problems or respiratory issues. As superior protection and three-stage filtration fights against germs, bacteria, and toxins and promotes natural breathing.  It's a lightweight product that you can carry easily from one room to another.
In addition, this air purifier circulates clean air and eliminates mold, pet dander, pollen, dust, cooking smell, and debris easily. So, without any doubt, the JOYA MIA air purifier is definitely one of the best air purifiers for pets and molds. And will certainly improve the way of your life.
Pros:
Quality and effective purification
Easy to monitor
Auto impurity detection process
Auto-adjustable speed and strength
High-quality construction
Cons:
Inefficient to cover the huge area under lower settings
Verdict:
We hope that you got the information in this content to buy the best air purifier for over 1200 sq ft. But if you are still having any confusion regarding any matter then don't worry. Make a list of your priority and necessity and then choose the one which meets all these demands.
Also, don't forget to replace the filters regularly otherwise your purifier won't be effective to clean the air. Last but certainly not least, check out the buying tips as it is the main key to buying a durable and efficient air purifier.
Fill your lungs with clean and fresh air with the best air purifier.