Headboards are a great addition to make your bedroom look great. It adds a new look in bed also. But it also helps us in reading in bed. Many people have the habit of reading in bed. And reading keeping the head on the headboard brings awesome feelings, no doubt.
But this may bring disaster if you choose the wrong headboard that actually doesn't suit you. And eventually, a wrong selection of headboards can cause neck pain and headache of you. The really worrying thing it is. And you can avoid this risk by just choosing the right headboard for you.
We have been researching headboards that are perfect for reading on the bed. Based on our long research and firsthand experience, we have prepared a list of the best headboards for reading in bed.
In simple words, a modern bed without a headboard is not complete. You can find adjustable headboards like best King headboards and Houzz queen headboards and so on.
Let's see.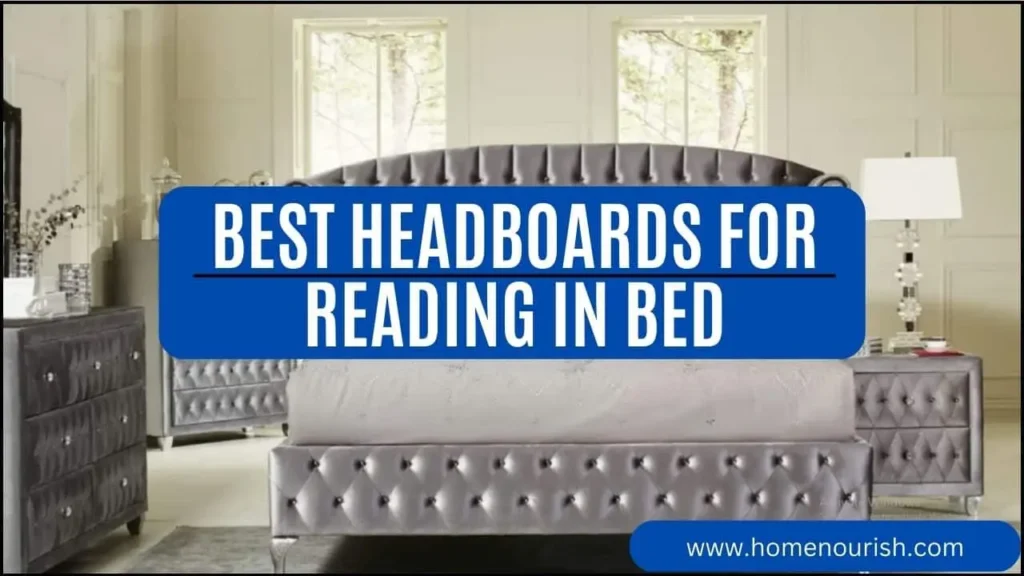 Best Headboards for Reading in Bed:
1. Sauder Orchard Hills Full/Queen Bookcase Headboard
If you want to decorate with a touch and elegance design into your bedroom then bookcase headboards that come from the Orchard Hills are the ideal choice. This headboard with a bookshelf got a polished look and a full or queen-sized bed frame easy to attach to the bed.
You are able to store and display the books after reading in bed and you can also decorate with an alarm clock and many more items that you need regularly. The headboard is finished in California Oak which is the best headboard for reading in bed and storing books.
The main feature of this headboard has two adjustable shelves and also cord access with the enclosed back panel. So dress up your bed with this headboard that is engineered wood construction. The dimension of the bookshelf headboard is L: 62.76 inches x W: 10.91 inches x H: 40.63 inches.
Pros:
Two adjustable shelves
Cords access with the enclosed back panel.
Full or queen-sized bed frame easy to attach to the bed.
Comes from the Orchard Hills and elegant look.
Cons:
2. LUCID Bordered Upholstered Headboard with Diamond Tufting
Considering the people's choices LUCID Bordered Upholstered Headboard is made with linen fabric and the diamond tufted button pattern makes it look more inviting and beautiful. There are a few colors available like Charcoal, Stone, cobalt, and pearl color.
To make the frame more durable Solid Serbian Larch wood is used in this headboard frame.  Parts and legs of the frame are hidden behind the headboard.  The headboard has pre-drilled legs, and a modification plate and is wall-mounted so that easily fits and is suitable for any type of bed.
The minimum adjustment of the headboard legs to 46 inches and up to a maximum of 58 inches. So compatible bedframe to adjust the height according to your need and secure it using the wall mount and drywall anchors. The dimension of the frame is 40 x 4 x 32 inches.
Pros:
Size 40 x 4 x 32.
Sturdy and durable.
Suitable to almost all types of beds.
Heights are adjustable up to 58 inches.
Extra protection because of mounted drywall anchors.
3. Pulaski Selma Camel Back Tweed Panel Headboard
A best-upholstered headboard that is an elegant silhouette and is appealing to make your home more beautiful. The headboard is constructed with thick padding wonderful nail head that makes it a classic and sleek design best for any type of home.
Because of the padded and stitched board, it lasts for longer. The board is available in two sizes standard king and California king for maximum versatility. The leg of the board is covered behind the board.
For safety and stability, the board is best to use against the wall. To make it softer and more inviting curved silhouette was used. The linen used in the frame is soft to the touch and durable and also easy to clean. Neutral color mixed with any type of home decoration.
Pros:
Soft to the touch and durable.
Classic and sleek design.
Easy to clean.
Available in two sizes standard king and California king.
Cons:
Some users complained the frame is not sturdy enough.
4. Modway Annabel Tufted Button Upholestered Headboard
Luxurious design & chic detailing provides a welcoming update for the master & guest bedroom. This Modway construction meets optimum satisfaction in a perfectly sophisticated style. The sturdy headboard gives a premium level of soft touch every time.
The flowing shape is associated with upholstered faux leather to ensure maximized comfort. The neutral hue takes the feeling to a greater level. Using the built-in deep inset button, you can easily go for a timeless elegant tufting.
A perfect blend of plywood & fiberwood gives a sturdy framework. The well-construction comes with a considerably lightweight body; weighing about 29 pounds as a Queen headboard. The measurement of 62 x 4 x 58 inches delivers perfect sizing & space for the bedroom.
Pros:

Stain-resisting soft velvet upholstery
High-end texture with polyester fabric
Reinforced central ladder beam
Tufted design induces modern décor
Cons:
5. Modway Curl Linen Fabric Upholstered Headboard
If you are looking for a delicately framed headboard with polished nailhead trim then Modway Curl is the one. Curl is one of the elegant and fashionable headboards that are great to update and make a bedroom unique.
Its solid frame made this headboard more strong and more durable. On the other hand, its metal leg and board panel make it sturdier for a better and more peaceful night.
You don't need to think about the quality of the headboard because it is configured with linen fabric, as a result, it shows a luxurious appearance. For relaxation while reading and sleeping in the bed boasting neutral hues and curls make a great experience.
The headboard is so balancing that is beautifully sophisticated and the curve shaped curl trademark is so appealing. The dimension of the headboard is 3.5×62.5×51.5 inches and the weight is 21 pounds.
Pros:
Strong and durable
Polished nailhead trim
Curve-shaped curl trademark
6. Zinus Jessica Modern Studio Upholstered Metal Headboard
The upholstered headboard by Zinus is able to a perfect décor to the bedroom. In fact, the stunning appearance of the grey exterior for the metal frame induces a classic style. The well-constructed headboard comes with foam padding to deliver maximized comfort.
The heavy-duty metal framework gives a solid & strong base. Simple yet beautifully crafted design easily outruns its relevant competitors. Being available in King, Queen, Twin & Full – all sizes are there to meet your demands.
Being a comfortable innovation, you will have a heavenly feeling each time you go for it. The upholstered frame measures 76.6 x 2 x 48 inches which seems reasonable in every aspect. Weighing about 31.8 pounds, the frame is considerably heavy with metal construction.
Pros
Classic style with sturdy construction
Very soft & squishable fabrication
Solid supporting metal framework
Cons
Additional brackets are required
7. Modway Lily Tufted Faux Leather Headboard
Bring in instantaneous updates with this versatile headboard from Modway. The stylish construction & elegant features fit perfectly into any space at once. Boasting a hue, you will get a tranquil & comfortable feeling, thanks to its incredibly sophisticated statement.
The vinyl upholstery incredibly withstands everyday use to ensure the utmost reliability. The structural pattern includes faux leather, permitting you to have a soft & relaxing touch every time. A stunning detail features a timeless design, encouraging serviceability to a great extent.
With the tufted design, it imparts amazing luxury with the creation of back-dropping to your bedroom. The blending of plywood & fiberwood made the 56 x 3.5 x 52.5 inches frame. With 23 pounds of weight, the framework remains stable to deliver continuous & peaceful application.
Pros:
Sufficient adjustability for height
Vintage décor with modern design
Finer polyester for upholstery
Stain-resistant & durable performance
Cons:
Very careful handling requirement
8. Flash Furniture Lennox Tufted Upholstered Headboard
When it comes to Lennox headboards, you are likely to get a perfect style & complementary size. Perfect fitting efficiency makes it one suitable option to décor your bedroom. Featuring slim panel construction, it delivers a spacious room to live in all the way.
The convenient design introduces the availability of floor space for your use. The vinyl upholstery induces maximized softness & therefore, optimum comfort. With the gray exterior, the Queen-sized headboard provides the exact touch from every angle.
With the integrated button tufting, you will get a fresh look with the upholstered metal construction. Proper assembly gives a bed measuring 61.5 x 2.8 x 54.8 inches, sufficient for a Queen sized bed. Of course, the weight of 30 pounds gives reasonable stability to the base.
Pros:
Adjustable railing slots
Comfortable vinyl upholstery
Stable, sturdy construction
Cons:
 9. Modway Lily Tufted Linen Upholstered Headboard
Modway Lily is the best value headboard that is good for instantly updating your bedroom. The elegant design of the headboard makes a sophisticated statement in your bedroom.
Boasting a hue add that makes a cool and relaxing environment so that any user can read and sleep comfortably in the bed without any disturbance.
In the headboard high-quality polyester fabrics are used, as a result, this will make you feel soft touch. The updated design of the headboard contains the pattern and the tufted design will make an attractive look that will never go outdated.
The headboard is so elegant and perfect for any bed frame style to make it more luxurious and reading and sleeping. It is made with fiberboard and plywood that make this headboard more durable and lightweight as a result it can be used for a long time and a peaceful night.
Pros:
High-quality polyester fabrics are used.
Fits any bed frame.
Soft, lightweight, and sturdy.
Cons:
Some users complained that they figured out the bed bug after a few days of purchasing.
10. Modway Emily Tufted Button Faux Leather 
Modway Emily is an elegant and timeless tufted designed best headboard for reading in bed. The headboard adds chic sophistication that creates an ideal backdrop for any kind of bedroom style.
The slanted headboard for reading is made of long-lasting fiberboard and plywood and a sturdy frame that will last for a longer time. This charming headboard is made of quality vinyl fabric.
Best headboards for adjustable beds boasting a tranquil hue that makes the bedroom more ideal, calm, and relaxing. The deep inset button is really beautiful and it will never go outdated.
Whether buying a headboard is not so easy and choosing is also important but this bed frame is the perfect choice for updating a kid's bedroom because it is so elegant and unique everyone going to like this. The dimension of the frame is 3.5 x 39 x 52.5 inches and the weight is 14 pounds
Pros:
Sturdy and durable.
Elegant and timeless tufted designed
11. Iconic Home Chava Headboard Velvet Upholstered
Iconic Home Chava is a slim and contemporary headboard that contains an elegant diamond tufting button that is updated with a mid-century modern design. This modern designed headboard contains both style and comfortable because its soft curved lines highlight the tufted diamond buttons best used for reading, watching TV, or sleeping on the bed.
In comparison with others, this headboard contains sturdy wood and makes extra styling to the bedroom with its soft and inviting structure. The overall combination of these makes the best headboard for sitting up in bed.
The full/queen-size luxurious cushioned diamond button-tufted headboard with premium fabrics will give a new look to the room and totally unique. The wooden frame legs with velvet upholstery and multi-density cushion. Queen size headboard width is 61.5", Depth: 4", and Height: is 53.25".
Pros:
The headboard width is 61.5", Depth:4", and Height: is 53.25"
Elegant diamond tufting button with premium fabrics.
Sturdy, stable, and inviting look.
Easy to fix and use.
What are the Benefits of using a Headboard?
The benefits of using a headboard are not so big a deal but it is connected to your bed and your bed is connected with your comfort. So in this regard, we can say that the bed frame is also essential for extra comfort.
While you sitting or reading something and most importantly for people who suffer from neck and shoulder pain and pregnant women a headboard can be an important part of your bedroom.
A soft and sturdy headboard will make you feel awesome on the other hand it can be the best part of your decoration. So let's check out the benefits of the headboard.
A headboard brings additional style to your bedroom and highlights your bed as a part of the decoration. You don't need to change the whole bedding if it is not suitable or doesn't go with your decoration. Just simply add an attractively designed headboard to change the whole room's look.
If your bed has no boundary to put your shoulder for rest then you can buy an additional headboard that will provide you support when you need it. When you sit on a bed or chair for a long time without any support you must feel back pain and neck pain.
So using a headboard will reduce the chances of getting back pain. On the other hand, the frame will also support you while you are reading a book on the bed.
A bedroom is a place where you get to relax after a long time working but if you don't feel comfortable in your own bed it will be very sad.
For additional comfort, you can use a headboard that is soft and make you feel comfortable while you are sleeping, reading a book, or reclining. Using a pillow while you are reading in bed will provide the best support.
Using a headboard is not take up so much space because the headboard will remain attached to the wall so that it doesn't take up so much space. The plus point of adding a headboard is that it will make you feel your small room bigger and open feel.
Most of the frame made by the manufacturer is much thinner. So you don't need to think about space for the headboard.
You may think that headboards are so costly that you break your budget but it's not true. There are several headboards that are costly but believe me, there are lots of huge headboards that you can buy brand new within your budget.
How to Choose a Headboard for your Bedroom?
Choosing a headboard is an important decision because you have to use it for a longer time. You don't need to take stress because most of the bed frame is made to adjust easily on the bed but therefore you need to be more conscious while selecting the headboard.
Choose Frame According to Bedroom Design:
Most of the time your bedroom design may not suit with bed frame you purchased. According to color and design variation, it may differ. So pick up the frame which will suit your bedroom configuration.
You must choose a headboard that will make you feel comfortable. Avoid selecting the hard foam and material used headboard. Most of the company manufactures using soft foam which will make you comfortable.
The strong and sturdy headboard will support you for a longer time and you don't need to change it regularly. Some of the low-quality headboards will be affected by insects and bed bugs. Before taking any decision think twice if it is really good for you or not.
There are several sized frames found in the market but you have to pick the right size according to your bed size. Don't worry it is not so difficult task. You just need to know your bed size and choose the size that is the same as your bed.
Final Words:
Now you know the requirement for choosing the best headboards for adjustable beds. Most people get confused and think about what color headboard should I get and do decorating mistakes but I think this problem is not so big deal. As I mentioned above you just need to pick a color and design according to your bedroom configuration.