Want to make your bedroom cozier because you spend a lot of time with your favorite person? But it's not so easy if you decorated your room somehow. You cannot feel the cozy feeling.
You tried a lot to make your small bedroom cozy but every time you failed because you don't have enough decorating knowledge about cozy bedroom ideas for small rooms.
We know the bedroom is the most comfortable space in the house but you have a small bedroom, nothing to worry about because we will move you to the right way to make your small bedroom cozy. Let's move to word to turn your small bedroom into a cozy one.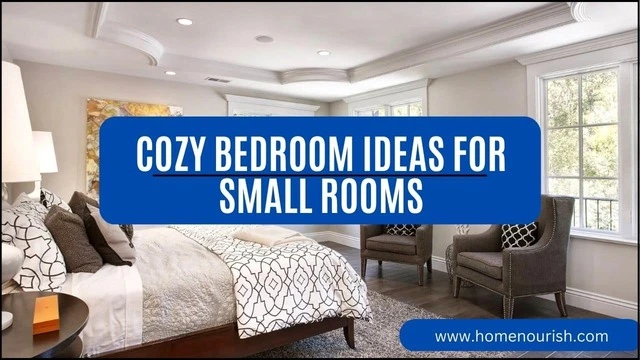 1. Paint light color into the Bedroom:
Paint color is an important fact that can change your bedroom. The light color will make your eyes more peaceful whenever you are in the bedroom. Don't add more gorgeous colors or overcolor your bedroom because too gorgeous colors will turn your bedroom ugly.
It's just about feelings that you feel with light colors. You can also add some eye-soothing stickers found in the market for a small bedroom that will make you feel cozy in your bedroom.
2. Use a Floor lamp or Desk Lamp:
Using a bright floor lamp or table lamp will create natural ambient light in your small bedroom. Most of the small bedrooms are deprived of natural lighting that's the reason it needs some artificial lighting to create a soothing environment. If you have natural lighting in your bedroom then you can skip adding artificial lighting.
3. Air Purifier:
You can also add an air purifier in the small bedroom to make the air more smooth and germ-free. The air purifier also refreshes your room by spreading a good smell. So I think it will be a great idea if you add a small room air purifier to purify your bedroom air and create a cozy bedroom.
4. Add Some Tree:
The tree is also an ideal way to create a soothing and cozy bedroom. Tree plant also refreshes your bedroom air and will be going to work best with an air purifier. Most of the houses use a tree in their tables of windows to keep the oxygen level adjusted with the bedroom.
5. Layer Rugs:
If your bedroom is covered with carpet or hardwood then rugs is the best way to make your feet feel warm. There are a different color and shaped rugs found in the market that is so cheap and you can easily cover that area you walks or needed. Rugs also create your bedroom cozy and inviting.
6. Bring Some Decorating Items:
Try to decorate your bedroom and filled with some decorating items like vases, chandeliers, beautiful art, a calendar, and many more items. But do not make over decoration because it will make your bedroom ugly.
7. Use Headboard:
Add a beautiful headboard to your bed and decorate it well. A headboard will make extra beauty in the bedroom though it will not make your bedroom or not related to coziness but will add extra value to your small bedroom.
8. Add Mirror:
A mirror is the best way to make your small bedroom look big and also make it cozy. When the mirror reflects the light in the bedroom and walls it looks bigger though it's not real but can be the best way to make a small room into a big room.
9. Add a Beautiful Curtain:
The curtain also makes the bedroom cozy and romantic. There are several bedroom curtains available in the market that covers door or windows and blockhead and light come outside and create a soothing bedroom which is important for a cozy bedroom.
Final words:
The bedroom is the favorite place for people who want to live in peace but sometimes the wrong decoration can bring the wrong result. No one can be an expert in home decoration without mistakes.
So make a mistake again and again and try to solve there the problem that occurs. One day you become a home décor expert and you can decorate your bedroom without the help of others. Space doesn't matter for good decoration.
If you are used to decorating a small room then it will be easier for you to manage decorating items in your small bedroom. Try to make clean your bedroom every day whenever it gets dirty. A clean bedroom is also part of the cozy bedroom.
Have a nice day!