5 Best Window Coverings for Short Wide Windows : Get Your Right Fit
When it comes to short-wide windows, we all tend to have a soft corner. And why not? These windows can lift the appearance of your room in no time.
However, the uniqueness of their design creates much of a challenge when you are looking for their coverings. Not just that, imposing any random curtain can also ruin the balance of your entire interior.
So, how do we find the best window coverings for short wide windows? Well, it seems like it is time to end the small talk and start discussing these short-wide window coverings thoroughly.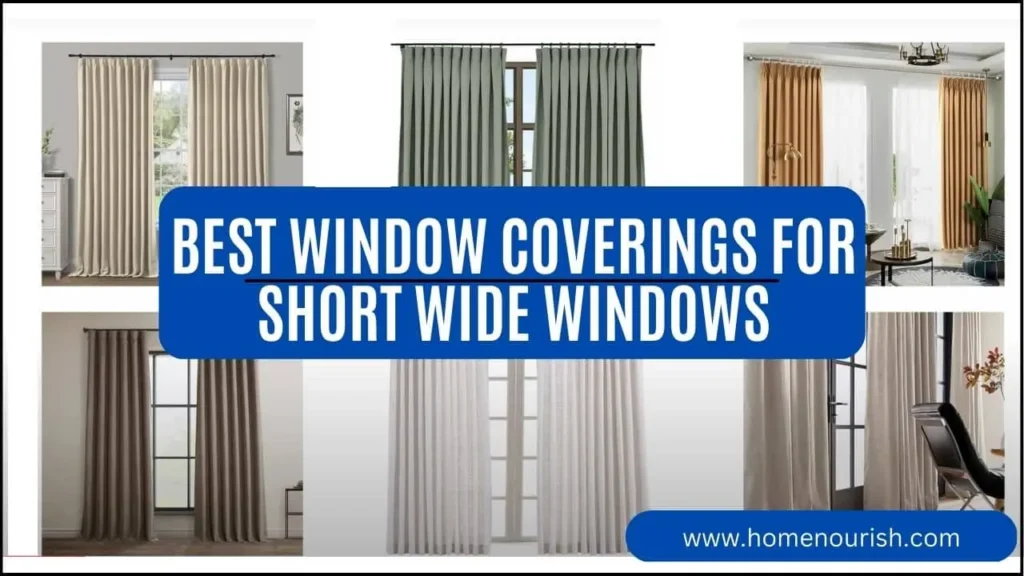 5 Best Window Coverings for Short Wide Windows
Alright, we have got that it is difficult to figure out how to dress short wide windows. And so, to help you get out of this mess, we have gathered up some of the best options. So, go through the details to learn more!
1. NICETOWN White 100% Blackout Curtains
With tons of attractive features, the NICETOWN White is one of the best window treatments for wide windows. These curtains are capable of enhancing the appeal of your room within a few moments. Not just that, but the elegant design comes with top-notch features as well.
Take light blockage as an example. The curtain blocks sunlight and creates that cozy environment for you. Besides, it provides you with a soundproof room as it prevents almost twice the amount of noise than the regular curtains. Moreover, the double-layer draperies create insulation.
As a result, your room will have a balanced temperature all season. Not to mention, you will also get a couple of panels with a gorgeous silver grommet. Therefore, work on how to dress a small living room window and use these curtains to give it a boost.
Pros:
Ideal for dark environment
Slides easily
Protects from UV rays
Elegant design
Blocks unnecessary noises
Cons:
Creates an intensely

dark room
2. Deconovo Grey Blackout Grommet Curtains
These polyester curtains work like nothing else when it comes to creating a cozy and warm atmosphere. For instance, you can set them up in the short wide window above the bed. This way, it will not only trap the heat for you but also reflect that during summer.
Another interesting feature of it is noise cancellation. And so, you don't have to worry about those busy streets anymore. Not just that, it will block the sunlight and protect you from the harmful effects of UVA rays.
To sum up, it is the ultimate option for your short-wide windows. Just pay some time learning how to decorate around a small window, and give your room a complete makeover.
Pros:
Minimum heat loss
Impressive noise reduction
Features a total blackout
Takes care of privacy
Soft and manageable
Cons:
Very sensitive to high temperature
3. PONY DANCE Window Curtains Drapes
There are several reasons behind choosing these PONY DANCE drapes for your small high windows in living room. Firstly, take a look at the gorgeous design of the curtains. Not to mention, you can style it with clip-rings, black loops, or rod pockets.
Secondly, it provides a shading rate of almost 50-60%. Thirdly, the triple weaving technique makes it durable and long-lasting. As a result, these drapes work outstandingly well as window treatments for transom windows. 
Another remarkable feature of these curtains is temperature control. Because of the insulating characteristics, you get to enjoy a comfortable temperature throughout all the seasons. Also, you can cut off your heating costs.
Pros:
Versatile styling capacity
Fits most rod-sizes
Amazing shading rate
Creates comfortable temperature
Environmental friendly
Cons:
Does not allow airflow
Not a total blackout
4. RYB HOME Short Curtains
With 85-90% sunlight blockage and high-quality UV ray protection, these short curtains work best as blackout window coverings. Besides, unlike ordinary blinds for a wide short window, these curtains are much easier to style.
That is why you can use them not only in your bedroom but also in your kitchen and basement. Not to mention, it works amazing for small high windows in the dining room as well. Also, you get decent privacy due to the density layers.
Besides, the versatile nature of these curtains makes them compatible with both indoor and outdoor decorations. You might also use a warm iron to get rid of any creasing. Nevertheless, be sure to keep the temperature under control.
Pros:
UV ray protection
Ideal for undisturbed sleep
Superb thermal control
Works for indoor and outdoor
Quick and easy cleaning
Cons:
Cannot use bleaches
The fabric seems a bit dull
5. BGment Blackout Curtains for Bedroom
The BGment coverings are the best window curtains for short windows for many reasons. To begin, you have to give credit to its chic appearance. Besides, the silky smooth texture and the silver grommets are perfect for an elegant makeover of your room.
Next, you get an intense blackout with these drapes. With almost 85-99% light blockage, you get the perfect dark atmosphere for a quiet afternoon nap. Moreover, it prevents any noise disturbance as well.
Finally, the size and the shape make are super-convenient to use. Just spend a little time thinking about how to cover clerestory windows, and that is it. However, while washing these curtains, make sure you don't apply harsh detergents or bleach to them.
Pros:
Soft and lightweight
Dark and noise-free
Prevents color shading
Timeless design
Machine washable
Cons:
Lacks in density
Extremely sensitive to hot irons
Buying Guide – Best Window Coverings for Short Wide Windows 
What are short wide windows called without their signature coverings? Of course, good-quality curtains can enhance the place. Just like that, a bad one can spoil the mood. So, what factors work behind choosing these coverings? Let us see for ourselves.
Window coverings create a light barrier for you. As a result, it can block sunlight and UVA for you. Also, you can learn how to cover windows without curtains by using blinds and slides to cover up those short-wide windows.
Curtains tend to trap dust and dirt very quickly. Of course, you have things like window treatment ideas for the kitchen. Even so, the curtains or blinds that you are using need to have an easy cleaning feature.
No matter what we say at the end of the day, we all have a budget. However, the least expensive window treatments do not tend to impress us all the time. And so, comparing similar items is a must to get a budget-friendly deal.
You might fall in love with a set of window coverings immediately. However, you cannot guarantee that they will go perfectly with your windows. For example, are choosing curtains for asymmetrical windows
Verdict 
So, that was it. We saw some amazing Best window coverings for short wide windows. Now, some of them were on the subtle side. On the other hand, some might add a bit of a twist to your overall interior. Regardless, the choice is up to you.
Therefore, now that you have learned how to dress awkward windows, allow yourself some experiments. Maybe, play with the schemes or rearrange your furniture to bring out the best in it.