A larger portion of today's population deals with back pain these days. Due to our daily life, most of us keep an improper posture which in term causes back pain. Aging is also another reason for back pain due to the reduction of calcium in the bone.
No matter what the reason is, a good sofa set can be your savior. Having proper support while you sit can ease your back pain a lot in the long run.
Let's look into some of the best sofa for back pain sufferers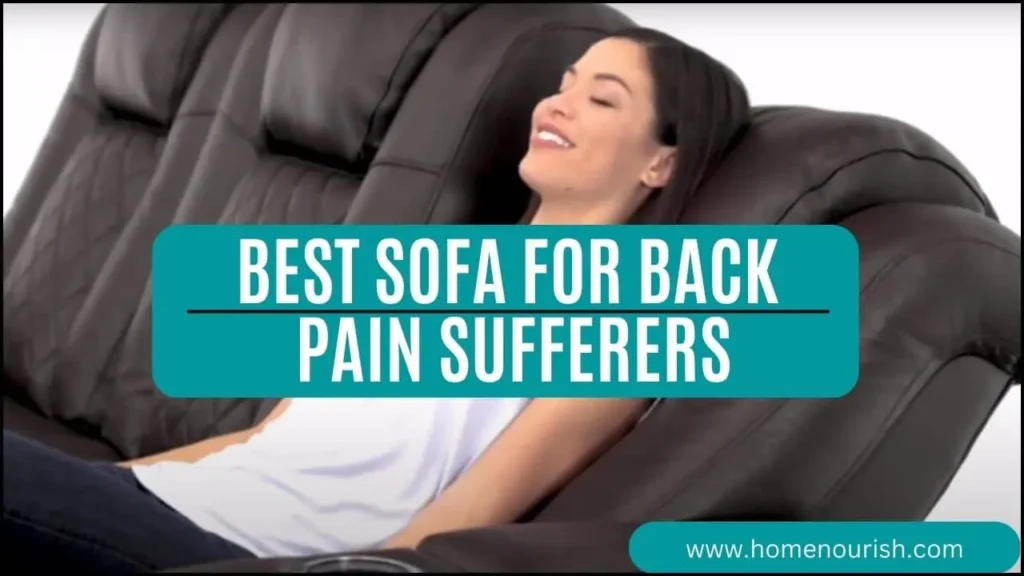 5 Best Sofas for Back Pain Sufferers
Back pain can take a turn for worse if you choose the wrong sofa to sit on. So, you must be quite attentive to details to pick the best sofa.
Here are our top picks:
1. ZINUS Ricardo Sofa Couch / Tufted Cushions
Looking for a way to support your back comfortably and save yourself from back pain? Then the super durable and naturally strong sofa couch from ZINUS can be your best bet.
This couch is framed into strong support with a durable and firm cushion of woven fabric. The seat cushions are non-detachable whereas you can easily remove the back cushion to your need. ZINUS Sofa Couch is a firm couch better for your back in case you suffer from extreme back pain.
The sist cushions are made of foam and fiber with a polyester-made cover. The shape and design of this sofa are so minimalistic yet classy. You can easily regard this sofa set as the best living room chair for back pain sufferers.
The cushions are easily cleanable with the help of a damp cloth and mild detergent. It comes in a wide range of shades to match your preference.
Pros:
Easy to assemble
Easily washable.
Stylish
Ergonomic.
Cons:
Non-removable cushion cover.
2. Serta Palisades Upholstered Sofas for Living Room
Back pain can be troublesome for the elderly in our family. Only a sofa set that is pre-built as the best sofa for the elderly can support them in this case.
Serta Palisades sofas are made to fit modern families with the guarantee of providing the best support for the back. This sofa set is framed in durable hardwood. The cushions are made of the best quality memory foam to ensure luxurious comfort.
This elegant and comfy sofa can be used while reading, studying, or simply for relaxation. Its versatile shape and size make it easier to be fitted in any living or family room.
It is the ultimate living room furniture that is good for your back. It can serve all the members, especially the elders to relax their backs and ensure great support.
This most comfortable and supportive couch also comes in all sorts of colors to match your existing decoration style.
Pros:
Imported polyester-made.
Soft and comfy.
Luxuries design.
Long-lasting.
Easily to assemble.
1-year warranty.
Cons:
3. Lifestyle Solutions Collection Grayson Micro-fabric Sofa
If you are into a stylish, heavy-duty couch, then Grayson Sofa is your way to go. This polyester-made micro-fiber sofa ensures ultimate support for your back.
The leg and supportive frames are made of real wood, which makes them durable even after heavy use.
The cushions are of high-density quality foam which helps them to maintain their shape and softness for a longer time. These soft cushions are combined with premium springs to ensure widespread suspension. The shape of this sofa set makes it the best recliner sofa for back pain.
Grayson Sofas are heavy-duty sofas with large dimensions and more seating capacity. The rolled arms are designed to provide extra comfort with a contemporary look. This sofa is designed to adapt to any setting of your household.
The black velvety look adds a touch of glamour to your house. It also comes with a user manual to give instructions on the set-up and maintenance process.
Pros:
Toolless assembly.
Long-lasting.
Bounce-back facility.
Well-built.
Elegant design and color.
Cons:
Relocation needs re-assembly.
4. Zinus Josh, Sofa, Beige
Is a recliner sofa for back pain all you need? Then look no further because the ZINUS JOSH sofa set has got your back fully supported.
This sofa comes in a neutral color tone which goes well with any settings of your pre-existing design. You can add any decorative elements and colors to this sofa to make it more vibrant. Foam and fiber made cushions with polyester fabric make you feel at home whenever you sit on them.
A strong wooden frame is supporting the structure while making it long-lasting. You can set this sofa up in less than 20 minutes without any tools. You can effortlessly clean the cushions with a cloth and regular detergents. This comfy yet stylish sofa set also comes with a year's warranty.
 Pros:
Compact
Ergonomic
Durable
Heavy-duty
Cons:
Non-removable cushion covers.
5. Signature Design by Ashley – Alenya Classic Upholstery Sofa
Do you prefer a custom-made designer sofa that can also be the furniture for back pain sufferers? Well, then Ashley – Alenya Classic Sofa set can satisfy your desire. This cozy sofa can save you from severe back pain with its soft, plushy cushions.
Polyester or nylon micro-fiber made this sofa is undoubtedly one of the best ergonomic sofas in the market. These fibers are also highly-resilient. So, you can easily keep them in good shape for years.
If you are dealing with a spacing problem, this compact yet extremely comfortable sofa can add a classy touch to your household. It also comes with a pair of pillows which act as neck and back support for the couch.
All in all, you can just keep this sofa in any corner of your house and enjoy quality time on it without worrying about back pain.
Pros:
Arrives pre-assembled.
Includes decorative pillows.
Highly wear-resistant.
Versatile design.
Space-efficient
Cons:
Lower springs need to be replaced multiple times.
Buying Guide – Best Sofa for Back Pain Sufferers
When it comes to deciding which sofa might be best to ease your back pain, there are a few things you need to consider. Take a look into the key factor of investing in a sofa set.
This one goes without saying. Quality is the first point you should check. When it comes to back pain, the wrong sofa can make it even worse. So, go for the soft, flexible sofa. Both the seat and back cushion must be made of high-quality foam.
On the other hand, the frame should be strong and well-built. There should also be high-quality suspension springs attached. In short, the sofa should be ergonomic.
The size of the sofa should be well-fitted for your space. The height is also to be considered.
Shape plays a vital role in your comfort. Especially for the elderly, the recline sofas work best to support their backs.
Sofa sets come in a lot of styles and designs. Make sure it matches your preferred style.
How easily and effortlessly you can clean your sofa is also another key point to consider.
Verdict:
Finding a way to support your back after a long day is all you need. And selecting the best sofa for back pain sufferers is crucial. You have to check out several factors.
We hope you have got enough help from our recommendation and now, you will find the best one to relax.