Want to change the look of your drawing room? The easiest way is to change the cushions of your corner sofa. Now, are you confused about how to organize your new sofa with cushions?
Though these decisions seem easy to make, they are not that simple. There are various things to consider before dressing the corner sofa. Cushions are a mandatory part of sofas, but in a corner sofa, they are vital.
So, if you are looking for ideas about dressing your corner sofa, you have come to the perfect place. That's because we are going to share some cool secrets with you on how to dress a corner sofa with cushions.
Let's begin and explore more.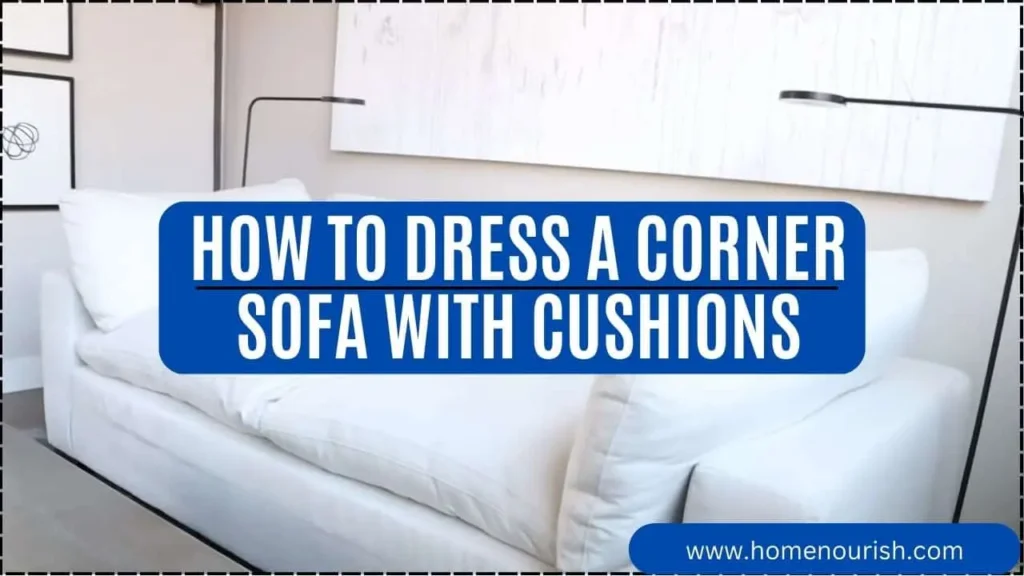 How to Dress a Corner Sofa with Cushions
To begin, you have to consider some simple yet crucial things. The size and color of your sofa, the color of the background wall or whether there's a window near the place, things like these.
To make things simple, we are discussing these facts below in detail.
Selecting the right theme or story to follow is the first step. For that, you have to consider the space. Do you want a minimalist look or a maximalist style? What style does your place afford?
Then, choosing the right shades of color is pivotal. If you are a fan of bright colors, you should choose those. In that case, the corner sofa should be neutral to comply with the bold-colored cushions.
Light and cozy colors like aquamarine, peach, and salmon can create a fresh look.
However, try telling a story with the colors and style of the couch and cushions along with the corner it is in.
Whatever design and style you are going to select for the sofa, you should give more emphasis on comfort. After all, it is important for boring days and tired nights, right?
You can add a sleeping sofa bed to the corner sofa. And match the blanket and cushions contrasting with the couch. Then a rug can be your option to choose from. A rug that complies with the whole story will give a complete look.
Try creating a comfy feel around your sofa set and some flower vases or photo frames that go with the theme. You can keep one or two oxygen-supplying indoor plants like snake plants.
How many couch cushions should you use on your sofa bed? Firstly, the number of cushions depends mainly on the size of your sofa. Three to five pillows can be good for a medium-sized one while six to ten can go with a big one.
Again, this number is just an assumption of us. You have to throw some cushions and see whether they are enough to make a comfy feeling. Just keep in mind that using too many pillows will make it stuffy.
To know how much is too much, just throw some on the sofa. And then make a decision. After all, it's your own corner. You should be the one who decides.
Following a certain trend is not always essential though. You can just use your fashion sense for choosing the pillows. For a family sofa, choosing some fun colors and patterns can be a good idea.
Or you can add two or three cushions with bold designs with the rest of the cushions. That can bring into being a different and unique look.
Different sizes of pillows are another fun idea to go with. Playing with the shapes can be very compelling. Place some circular or triangular pillows if you like to.
No matter what your theme is, creating layers can always be interesting. Choose some cushions of different sizes and shapes. Place the large ones behind the small ones.
In the case of the colors, choosing a harmonizing set of colors is the best. And do not only focus on the sofa. If there's a window near the sofa, match the color of the draperies with your theme.
The background style is also critical to create a complete image. Arrange some accessories or shelves with complementary colors.
Mix-matching the pillows can change the look of your corner sofa easily. Also, you can think of throwing a blanket of bright or pale color on the sleeping sofa bed.
There are many ideas to dress a corner sofa but following your heart can be another extraordinary one.
The couch itself is also very important when thinking about arranging the pillows on your couch. So, when buying one, pay more attention to the comfiness and quality.
When the sofa is in its place, decorate it considering the facts like comfort, image, and fashion. As I said before, you can just follow your heart. Utilizing your day-to-day fashion sense can create a difference.
Conclusion
If you are thinking about dressing your corner sofa, I hope these ideas on how to dress a corner sofa with cushions can help you. It all depends on the impression you want to make with the corner.
The shapes and colors play a great role in implying the style. For example, the square cushions will give a formal look while the triangular or star-shaped one will give a more lively feeling.
So, good luck!