Facing difficulties in managing your heating system? I know, it gets very frustrating when the bills start getting higher, and nothing seems to work right.
Well, how about I tell you a brilliant solution? Programmable thermostats, that's right! With this impressive tool, you can manage your heating system, get full control over your smart home, and save up a lot of energy at the same time.
So, stay focused as you, and I are going to go through all those exciting features and find out the best programmable thermostat for heat pumps together.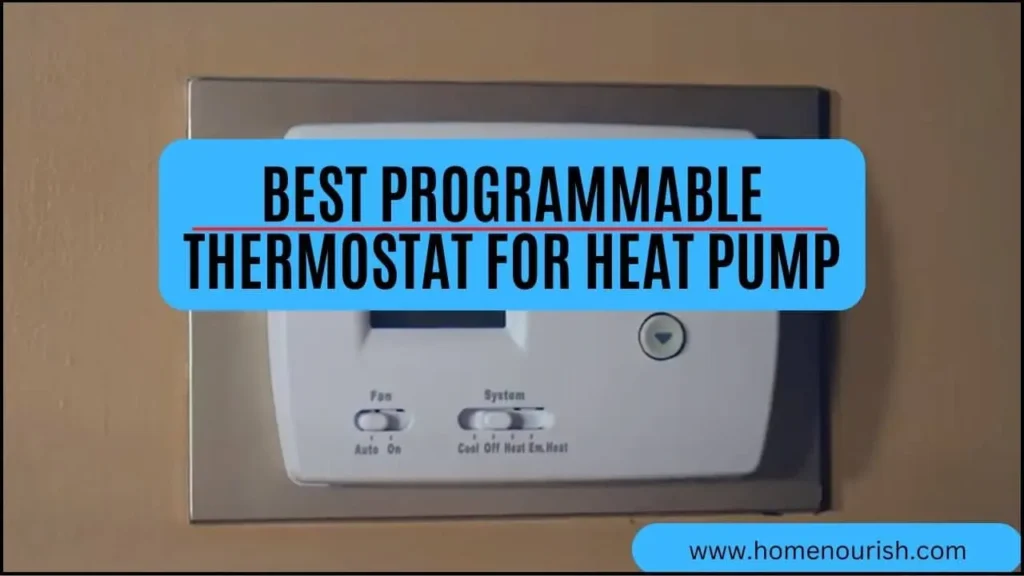 Guide Best Smart Wifi Thermostat
Dealing with thermostats is more of a delicate issue than it appears to be. You need to have a clear vision of what you want and what you don't. Therefore, I am bringing you all the details you need to know before buying one.
Although most of the items are compatible with any HVAC system, there are still some exceptional cases. So, take a look at the packaging details and match them to your HVAC system.
The newer versions of thermostats have different wiring issues. It might require a C- wire or common wire. Whatever it might be, just make sure that it is compatible with the device you are working with.
This access is capable of helping you to control and monitor the entire system even from far away. So, grab one that has this feature if you are interested.
Saving up energy is one of the primary causes of using a thermostat for a heat pump. Therefore, go through all the charts and graphs before buying one.
Select proper programming 
Decide what type of programming you want to go for. If you are looking for a non-connected type, get the best non-programmable thermostat for heat pumps. Otherwise, look for a smart thermostat.
Best Programmable Thermostats for Heat Pumps
Now that you know the important things that make a thermostat worthy enough of buying, let us now check out some of the most reputed programmable thermostats for a heat pump.
1. Emerson Sensi Touch Wi-Fi Smart Thermostat
The Emerson Sensi is an exceptional edition in the field of a programmable thermostat and is considered the best smart thermostat 2023. With its supreme compatibility, it works effortlessly with Amazon Alexa, Samsung SmartThings, Google Assistant, and Apple HomeKit.
Again, the thermostat offers many exciting features like a circulating fan and smart alerts. It is packed with all the latest features and maintains to be extremely user-friendly at the same time.
Pros:
Great touchscreen facility
Circulating fan
Smart alerts
Compatible with C-wire
Supreme energy saving
Amazing smart home compatibility
Good monitoring
Tracks down previous records
Easy installation
Attractive appearance
Cons:
No batteries included
A bit expensive
Often needs extra Wi-Fi boosting
Gets very hot after a while
2. Honeywell TH9320WF5003 Wi-Fi Touch Screen Programmable Thermostat
If you are looking for the best-quality wireless heat pump thermostat, Honeywell TH9320WF5003 might be a perfect choice for you.
The thermostat will never fail to amaze you with its magnificent features. The super-comfortable app of them is very easy to operate and it manages all the settings like a pro.
Starting from installing to handling the custom display, the brand has always given the maximum focus on user comfort. So, choose it and get the best heat pump thermostat for your house.
Pros:
Great application facility
Easy remote monitoring and managing
Comfortable and customized display
Amazing energy saver
Stylish appearance
Super smooth touchscreen
Amazing compatibility
Wireless facility
Easy programming
Cons:
Installation gets difficult sometimes
No batteries included
Records of getting shorted
Has temperature-related issues
Heat mode often disturbs
3. Ecobee3 lite Smart Thermostat
The Ecobee thermostats are well known for being the best thermostat setting for geothermal heat pump. However, they are compatible in any sector and serve the best in an environment-friendly way.
You can install the thermostat by yourself within just 20 minutes to half an hour. Moreover, throughout the entire journey with ecobee, you will experience the easiest controlling features.
It is compatible with almost all mobile devices with its ecobee app and works best for smart home services.
Pros:
Great in saving energy
Amazing room sensors
High-tech yet user-friendly
Easy installation
Brilliant for smart home facility
Great setting modes
Compatible with almost every mobile device
Very good at monitoring
Comes with an extender kit
Cons:
Remote sensors need too many resets
Unwanted rebooting issues
Gets hot after a while
The adapter needs too many wires
4. Honeywell RTH8500D 7-Day Touchscreen Programmable Thermostat
Product description
The Honeywell RTH8500D is the ultimate thermostat option for any situation. The brand has gained huge popularity as the best smart thermostat for multiple zones for its supreme compatibility and flexibility.
The separate and easy programming facility increases energy-saving and minimizes compressor damage.
Not just that, you can enjoy the most precise control over the temperature and the smartest responses through this thermostat. Also, it is renowned as the best dual-fuel thermostat.
Pros:
Works fine with a conventional system
Innovative power change reminders
Awesome energy saving
Great control over temperature and voltage
Built-in smart response technology
Compressor damage precautions
Good monitoring
Super comfortable touchscreen
Cons:
Difficult programming
Not always fast enough
A bit too expensive
Connection losing issues
Not too durable
5. Lux WIN100 Automatic Heating & Cooling Programmable Outlet Thermostat
If you want to know how to use a heat pump in winter, then check out the amazing features of the Lux WIN100. The automatic heating and cooling services and the super-easy program help you get rid of all the worries of winter.
The thermostat comes with a very comfortable set of touch keys and a user-friendly speed dial. What's more interesting is the super easy plug-and-play feature of it. The simplicity and compatibility of the program make this thermostat the best option to choose.
Pros:
Very simple programming
Easy installation
Amazing speed dial facility
Amazing smart home compatibility
Good monitoring
Comes with an easy touchscreen facility
Battery included
Easy extension card
Great in energy saving
Cons:
Isn't compatible with all the heaters
Random resetting issues
Problematic switches
Has a very bad smell
Gets hot very quickly
Verdict
In search of the best programmable thermostat for heat pumps, we went through the most renowned names and learned about their promises.
Some provide extraordinary control whereas others are super comfortable to use. So, take your time and look for an option that blends best with your taste.
You'll be amazed by the overwhelming feeling of controlling your home perfectly and making your life a whole lot easier.