Remote outdoors or living indoors – emergency events can start haunting you at any time. And you better keep yourself prepared ahead of time to stay secure. One essential piece of equipment to handle any emergency is backing up a generator.
As it happens, the question arises – what kind of generator do I need for an emergency? What you actually need is the best generator for emergency preparedness.
We enlisted the probable best options for you. Just go through all the details to match your demands prior to the purchase.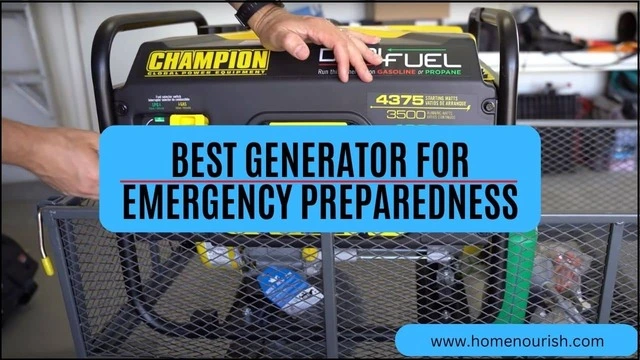 Guide – Emergency Preparedness Generator
You can easily find an overwhelming pile of generators in the market. But special requirements call for special versions. You better get the key considerations in mind to make a successful purchase.
User Purpose:
Where, when & how you're to put the generator in action comes first. Outdoor support requires special details to withstand weather elements.
Output Power:
The outcome has to serve all the intended electronics. Indoor generators can provide much higher wattage in comparison to portable ones.
Fuel Insertion:
Dual fuel systems run on either conventional gasoline or liquid propane. There are battery-powered systems, particularly developed for outdoor.
Engine System:
The engine itself is one of the important parts of the generator. You'll have to pay attention to every spec involved to judge the possible functionality.
Running Time:
No strict rules can bind the running time. It directly depends on power generation. Intense/heavy/frequent use means a somewhat lower running time.
Outlet Specs:
It's indeed the outlet where electronics get the supply of power. A defective or poor outlet will immediately lead to damage to supported gears.
Startup Action:
The smooth startup is one crucial factor of any high-quality generator. You don't want to spend valuable time on repeated attempts to start the engine.
Best Generator for Emergency Preparedness Details
1. Best high-power generator – Champion Power RV Portable Generator.
Voltage: 120 volts. Engine: 224 cc.
Editors Choice:
Champion power is a dual-fuel 3800-watt portable generator. With this, you can run a 15000 BTU air conditioner. It has also a cold start technology used which means you can start it quickly in cold weather. Uninterrupted run 9 hours on gasoline when it is 50 percent load and the tank is full on the other hand 10.5 hours on 50 percent load on propane.
Detailed description:
Immediately power up the entire house with the featured portable generator. Champion certainly utilizes its years of experience to design mechanical assets. The system integrates a generous 224CC engine to function with gasoline/propane. In fact, the single-cylindered 4-Stroke engine comes with an air cooling facility.
Also, the dual-fuel mechanism lets you enjoy a dependable backup service. Again, the generator includes Volt Guard with Intelligence.
Cold Start technology initiates a smooth power start-up with a safety fuel selector switch. The Electric & recoil starting action generates 63 dBA noise at a 23′ distance.
Pros:
Power output measures 3800 watts.
A durable sleeve of sturdy

cast iron

.
Smooth push-button electric start.
A non-flat tire with a portable handle.
Automated low-fuel shutoff action.
Cons:
2. Outdoor generator – Jackery Power Station Solar Generator.
The specialized mechanical design definitely meets the demand for long-term outdoor explorers. Jackery combines the essential features to serve the outside power requirements perfectly. The engine runs on a 240Wh battery having 16.8Ah & a 14.4V rating. Lithium-ion battery comes without fumes or clanging, eliminating gasoline/propane/fuel.
Despite the smaller sizing, the best budget generator delivers a full 200W output. There are 4 outlets in total, featuring a top handle for comfortable carriage. Pairing with Jackery solar saga initiates convenient 60W/100W output upon recharge. A 100% sine wave inverter powering station ensures a protective energy supply to electronics.
Integration of several ports allows the charging & powering of certain outdoor products. It helps with the smooth running of laptops, air-cooler flashlights & other equipment.
Pros:
Supportive 200W power on the output.
Enduring frame to resist the weather.
Compact size, superior portability.
Convenient equipment recharging.
Green, clean, quiet power supply.
Cons:
A certain loss of battery power.
3. Good for CARB compliant – WEN 56200i Portable Inverter Generator.
Simply double the emergency power to increase the output wattage. WEN brings in 56200i to satisfy all the light outdoor requirements in no time. The Featured 79.7CC 4-stroke OHV engine comes CARB & EPA III compliant. And the system generates 1600W of running output against the peak 2000W rating.
The compact formation has one handle with the best generator for the power outage. And the somewhat easy carriage makes it one plausible gear to use on exploring adventures. Production of clean power retains optimum mechanical safety. Also, the system prevents damage to other electronics backed up by the generator.
Built-in 1-gal fuel tanks hold sufficient gas to provide electricity for 9.4 hours. A reasonable 53 dBA noise is certainly annoying, but still within tolerable limit.
Pros:
Moderate 1600W output.
Safe energy for electronics.
Auto fuel rate adjustment.
Receptacle with USB ports.
Fuel level indicating lights.
Cons:
Initial start-up difficulty.
4. Hybrid generator – Durostar Electric Portable Generator.
Quick, reliable, uninterrupted power-up through the mechanical backup equipment. Duroster surpasses its other counterparts with its powerful DS4850EH model. Featured 7HP, 208CC OHV engine results in 3850W running & 4850W peak output. MX2 technology enables integrated 120V/240V outlets to supply exact power.
All copper winding comes with all-metal construction having GFCI outlets. Built-in low-oil shutoff sensor protects the engine parts from potential damage.
The dual-fuel mechanism remains incredibly functional with both gasoline & propane. And the fuel tank skips frequent refilling requirements, measuring 3.96-gal volume.
Pros:
Standard 3850-Wattage power.
Long-lasting structural support.
Smooth supply of electric energy.
Safe outlet to secure electronics.
Faster switching between fuels.
Cons:
5. Quietest generator – Honda Portable Inverter Generator.
An incredibly simple outlook comes with superior efficiency in inducing emergency support. Honda has its EU2200i to handle all sorts of sudden adversity in no time. Its powerful engine action includes an exclusive eco-throttle system. You can get a solid 2200W running power without any disruption in frequency.
Convenient fuel efficiency allows a reasonable runtime of 4.0 to 9.6 hours. Also, you can initiate two generators in a parallel connection to receive 4400W output. Premium inverter technology generates clean, stable & consistent energy. And the noise for the best generator for SHTF measures a low 48 – 57 dBA sound.
Pros:
Powerful 4400W support.
Prolonged running time.
Durable frame materials.
Smooth, constant output.
User-friendly operation.
Cons:
Not exactly the quietest.
6. Dual-fuel generator – Westinghouse WGen9500DF Portable Generator.
Ultimate backup power comes ready to enlighten the entire surrounding. Westinghouse develops one monstrous portable generator to supply an immense amount of power. The heavy-duty 457CC engine delivers 9500W/8500W of running power with gas/propane. And you can even get 12500W/11200W of peak power respectively.
25% loading can offer an uninterrupted runtime of 17.5 hours. Again, a large 6.6-gal tank capacity calls for less maintenance with the emergency home generator. Integrated L14-30R 120V/240V requires 30A for its twist-lock outlet design. Apart from the readied transfer switch, you can power up using the key fob.
As it happens, you can trigger the engine action from 260' away. The 4-stroke engine certainly makes a loud noise. But you can skip the issue with a distant generator placement.
Pros:
Running 9500W/8500W power.
Higher sturdiness for longevity.
Simple switching between fuels.
Remote electric start-up key.
All necessary outlets included.
Cons:
Fluctuation in frequency.
Verdict
Emergency preparation has to include one generator regarding electrical gears. But ordinary generators can barely serve you at the events.
And that's where you'll have to settle down for the best generator for emergency preparedness. Only the righteous choice can step forward to handle the urgency.