Quick Solution: Identify the problem that makes it slow down. You can adjust the pendulum, clean the clock mechanism and change the battery.
Introduction:
You are lying on your couch and enjoying your lovely afternoon with your favorite book and a mug of coffee. Of course, you don't have all day to laze around, right? So, you are also keeping an eye on the wall clock you just bought. You looked at the clock again and noticed that it was not too late and yet seems like evening.
After checking your phone you discovered that your brand-new clock has already started to run slowly. Sound pretty frustrating, right? But, do you know how to fix a clock that runs slowly? If you don't, then we are here to show some quick ways to get rid of this situation.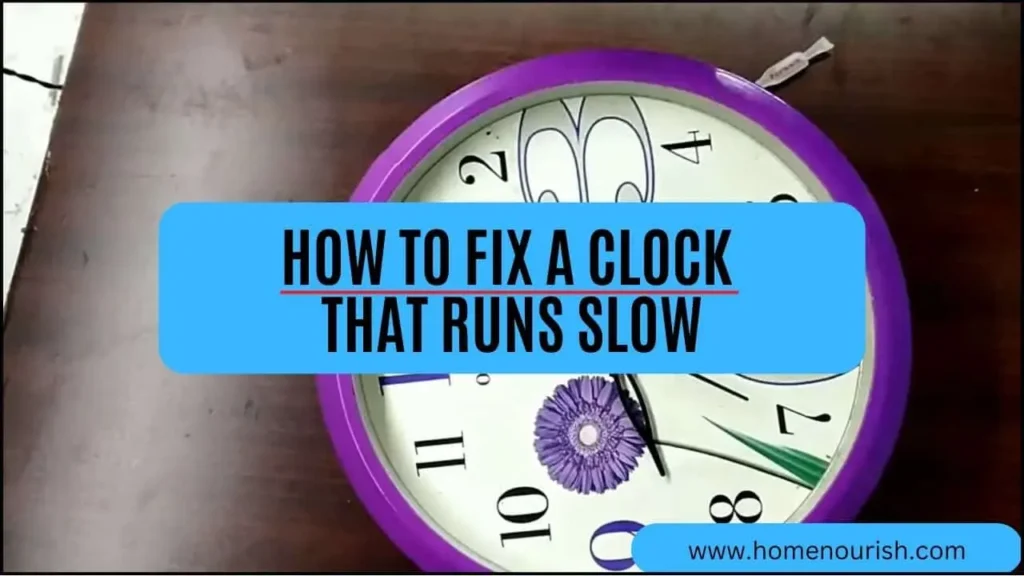 Why is it happening?
There could be several reasons behind your slow-running clock. Without identifying them, you cannot fix them properly. But, how will you identify that? Well, the reason can easily be detected by observing the clock. In most cases, it happens due to the interruption of the power source.
Again, external dust or rust can also damage the natural speed of your clock. Not just that, the friction among the clock handles might cause some trouble as well. Therefore, you should always keep an eye on your wall clock and check it from time to time. It is better to change batteries or cables every month.
How to Fix a Clock That Runs Slow & Solution:
What type of clock do you have? Is it a battery-powered one or an electric one? Well, each of them has their ways of handling the situation. Therefore, for better understanding, I am going to explain both of them to you separately.
1. Battery-Operated Clock:
If your clock is a battery-powered one then it is most probably running slow because of the damage to the battery. Take out your clock and carefully take away the lid of the battery chamber. Now, go ahead and take out the batteries.
What do you see? Is there any sign of rust on the battery? If so, grab a nail file and gently take away the rust from them. However, if you see only dust, nail files are not required. Simply, wipe off the dust with a piece of cloth or you can also try blowing them out.
Most quartz clock starts losing their time because of the end of the power of the battery. Again, the batteries might get expired. In this case, you should replace the battery with a new one.
Sometimes, there aren't any external signs of damage. You can try replacing the battery or also get it checked by a professional.
2. Electronic Powered Clock:
The electrically powered clock is a bit different from the battery-powered one. Complicated electrical wirings are included in this type of clock. If your clock is running slow then there might be an issue with the wiring. Gently take off the compartment and take a look at the connections.
Do you see any damage to the wires? If so, replace the cables with new ones and see if it works or not. Again, you should also check the electric clocks handles. If they are getting a collision or there is unnecessary friction among them, smoothen out the edges of the handles with a piece of cloth.
However, if nothing works, there is a possibility that the internal circuit is damaged. Go and visit a professional and hopefully you'll get rid of the situation very quickly.
If you find out your clocks kits are not working then you can replace them.
| Clock Kits | Name | |
| --- | --- | --- |
| | Timelike 3D Clock Hands | Check Price |
| | Youngtown Clock Spade Hands | Check Price |
| | EMOON 2 Pack Wall Clock Kit | Check Price |
| | Silent Clock Movement Kits | Check Price |
| | Creative Hobbies Quartz Clock Kit | Check Price |
Final words:
We learned some amazing tips and tricks about how to fix a clock that runs slow. Although the steps are capable of solving most cases, these are not the only ways to solve the problem.
It's really irritating when you, again and again, change your clock because of having the wrong time and some of the clocks also irritate with their ticking sound. Nothing to worry take a look at our non-ticking silent wall clock that will not make noise while you are sleeping or relaxing with taking tea in your living room.
If your clock has major issues like internal damage to the circuit then it is better to contact a professional for help. After all, the clock costs you a lot of money, and throwing it away without even trying to fix it is an utter waste.