Do you want to purchase new door mats for your home or office? Then you should consider buying one that will keep your house clean and tidy efficiently. The best absorbent door mats are the one that completely catches all of the dirt, sand, muck, and snow from outside.
However, finding the perfect dirt trapper doormat is not easy. There are many brands that offer door mats of different varieties. And so to help you choose the best one, we have compiled a list of the 5 best dirt-trapping doormats.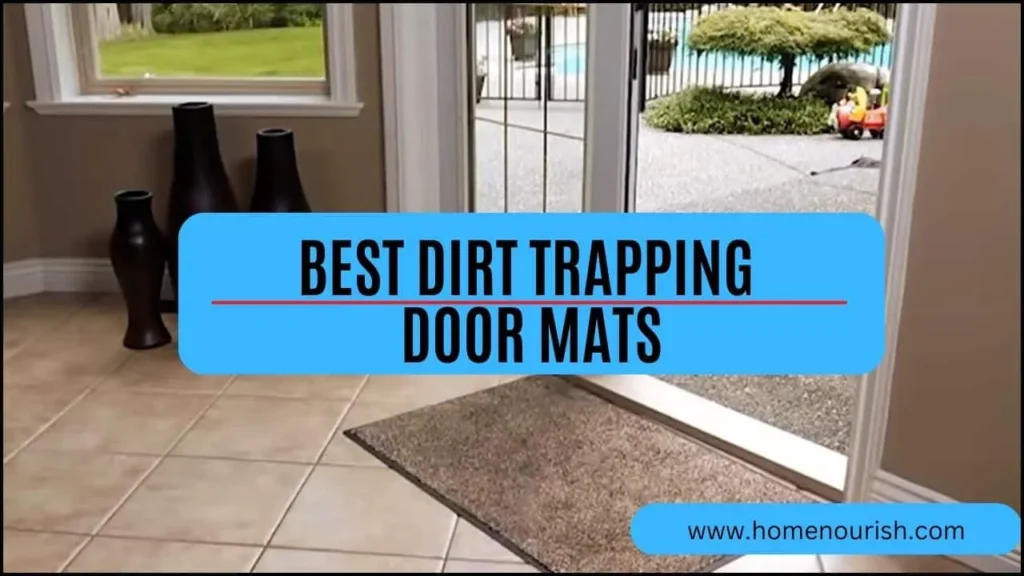 Guide for Best Dirt Trapping Door Mats
We have put together this complete guide. So you will know all the factors you need to consider before buying the best dirt-trapping door mats.
Where Would You Place the Mat- Indoor or Outdoor?
There is some difference between indoor and outdoor door mats. Outdoor mats must be weather resistant and more durable. If you will use the mat inside your house, you can get away with less durable natural fiber mats.
Natural fiber mats will deteriorate much more swiftly than a rubber or polypropylene rope doormat. Look for water-resistant materials like seagrass, coconut fiber, and teak.
A mat that has a textured surface will catch dirt, mud, grass, and debris easily. Also, you can get one made with brush-like fibers, loops, or grit that will also scrape off dirt efficiently.
The most commonly bought outside doormat is 18″ x 30″. However, for wider doors, you should size up to 21″ x 33/34″. But first, measure the size of your door and then decide.
The best thing would be to buy a machine-washable mat. If your mat traps dirt within, you'll either have to shake the dirt off with a broom or use a vacuum. If your doormat traps dirt under it, then just lift it up and hose it down for cleaning. Make sure to dry the mat before using it.
5 Best Dirt Trapping Door Mats
With our review of the 5 best floor mats for your home, you will surely find your ideal door mat. So, go through the detailed reviews of each mat, before hitting the 'Buy Now' button.
1. Gorilla Grip Original Durable Natural Rubber Door Mat
The Gorilla Grip Original Durable Natural Rubber Door Mat is a must-have item in your house. One amazing feature of this doormat is that it's made from high-quality natural rubber that makes it extremely durable.
Its elegantly formed gray polypropylene fabric is not only heavy-duty but also very soft and comfortable. This refined design makes it ideal for indoor use too.
This doormat has a border that is built like a rubber bevel. This design helps capture moisture from your shoes or from rain. Lastly, it's waterproof so it's perfect for high-traffic outdoor areas.
Pros:
Won't get in the way of swinging door for low design
Can be vacuum cleaned
Polypropylene fabric dries very quickly
Good for both indoor and outdoor use
Cons:
Has a really strong rubber smell
2. Shoe Disinfecting Mats for Entrance
The perfect doormat for this lockdown has to be the Shoe Disinfecting mat for the Entrance. It will not only clean the dirt and dust off your shoes but also disinfect the soles of your shoes for greater protection against the virus.
With only two steps your shoes will be free of both dirt and any virus or bacteria. Also, this comes with a cleaning pad for absorbing excess disinfectant from the shoes. All these make this the best doormat for cleaning shoes.
 Moreover, the disinfecting door mat has a dual non-slip design to stop sliding. It has anti-slip plugs on four corners of the mat for increasing stability. Lastly, three-step cleaning makes cleaning very easy.
Pros:
Made with PP, PVA, and super fiber
Comes with an anti-skid plug
Can be arbitrarily placed
Two-step cleaning of the shoes
Cons:
Chlorine-containing disinfectant has an eroding effect on the PVA
3. GrassWorx Clean Machine High Traffic Doormat
GrassWorx Clean Machine High Traffic Doormat is specifically made for commercial destinations where more people come. This mat is built with AstroTurf scraper blades that can efficiently absorb dirt, sand, grass, mud, water, and snow.
This doormat has small plastic blades that take dirt off the shoes. Moreover, it is mold and mildew resistant and the color will not dull for a long time. It will withstand any weather from rain to snow to scorching sun.
Triple Cleaning Action grab ensures better dirt trapping and stores up to one pound of dirt per week. The gathered dust can be shaken out and the mat washed with a backyard hose.
Pros:
Can endure harsh use
Has AstroTurf scraper blades
Good for heavy traffic areas
Made from flexible and durable polyethylene
Cons:
4. DEXI Indoor Doormat

Non-Slip Absorbent Resist Rug
The DEXI Indoor Doormat is the perfect combination of elegance and durability. With this, you can keep your doorway dry and clean. These indoor mats have been made to last with strong TRP rubber backing.
It's made from recyclable, non-toxic, odorless material. The dimension of 20″x32″ inches covers an adequate area of your foyer, and with its low profile design opening or closing doors will be effortless.
Cleaning the mat is also very simple. You only need to shake or tap the mat against a wall. For intense cleaning, use a water hose or put it in the washer. Remember to use cold water for cleaning.
Pros:
Protects sensitive floors from scratching
The heavyweight mat stays in place
Perfect size for an entryway
Machine washable mat
Cons:
Makes an unpleasant "crunching" sound when stepped on
5. Indoor Doormat Absorbent Front Door Mat
The Indoor Doormat 24″x 36″ Absorbent Front Door Mat is the best absorbent doormat you'll find. It is made of great-quality polypropylene material that absorbs both water and mud. Also, it's eco-friendly material is safe for your kids and pets.
For trapping all kinds of dirt its polypropylene fabric has been slightly raised. These mats are great for indoor use as they are available in stylish designs and colors that will complement any decor.
This mat has heavy-duty and durable TRP "Gripper Non-Skid" backing, which makes it the perfect non-slip indoor front door mat. What's more, this doormat is machine washable.
Pros:
Has nonslip TRP rubber backing
Highly moisture absorbent
Made from eco-friendly material
The incomparable fiber-locking technique prevents fiber loss
Cons:
Verdict:
We believe that our review of the 5 best dirt-trapping door mats will help you to find the ideal dirt-trapper door mat. These door mats have it all – from excellent durability to top-class dirt maintenance.
However, our personal favorite is the Gorilla Grip Original Durable Natural Rubber Door Mat, which will not only trap all of the dirt, sand, and debris but also protect your floors from snow and scratching.
You May Also Like: