Have you started cooking more during these long months of lockdown? And suddenly realized keeping your kitchen air clean has become impossible? Also, the grease and grime on your stove and ceiling seem endless!
The solution to all your troubles is an exhaust fan. They are essential for improving air quality in your kitchen. Not only that but having an exhaust fan will stop oil and grime from setting up on your kitchen ceiling.
Finding the best residential kitchen exhaust fans won't be a challenge if you already know what you are looking for. To help you make an informed decision, here we will discuss the top kitchen exhaust fans available in the market.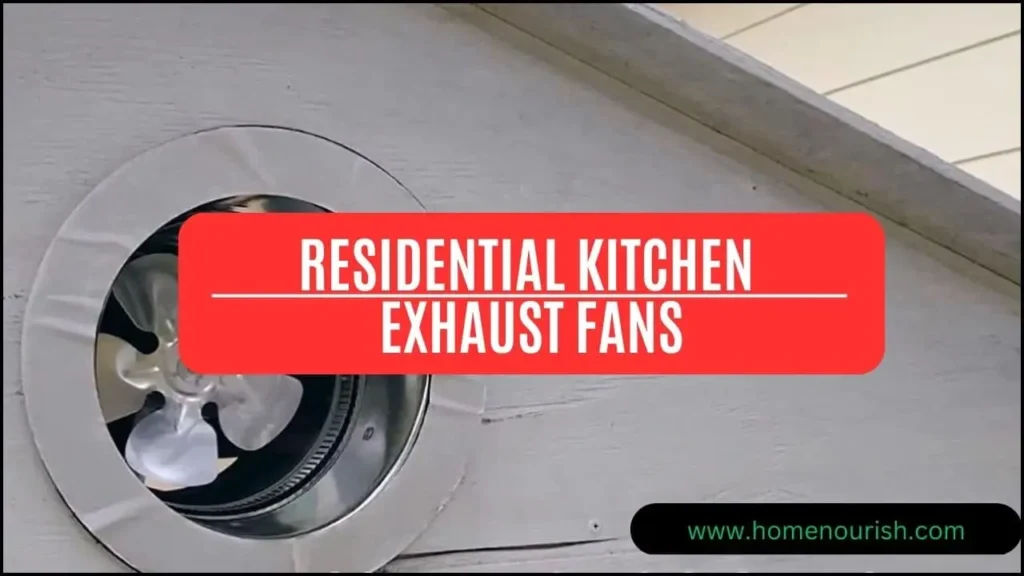 7 Best Residential Kitchen Exhaust Fans
To make things easier for you, we reviewed the 7 finest residential kitchen exhaust fans and listed their detailed descriptions. Also, check out the pros and cons of the products to compare them accordingly.
 1. iLiving – 16″ Wall Mounted Exhaust Fan
Looking for an exhaust fan that will reduce your cooling bills but keep your home cozy the whole year? The iLiving – 16″ Wall Mounted Exhaust Fan might be the perfect option for you.
It comes with a 16-inch variable-speed shutter fan that lets you enjoy excellent ventilation and durability. Moreover, the iLiving ILG8SFSC speed controller guarantees adjustable speed control of the blades. No need to worry about installation, as the only task required is electrical wiring.
Not just that, you can experience all these features without any noise. You know motion balance ensures the quiet performance of the fan. Lastly, you can use this exhaust fan not only in your kitchen but also in the attic, workshop, or greenhouse.
Pros:
Thermal protection for motor
Available in different sizes
Blades are remotely controlled
Prevents overheating
Weather-resistant shutters
Cons:
Requires larger space for installation
2. Direct Drive Centrifugal Down blast Exhaust Fan
Imagine a high-speed centrifugal exhaust fan with tons of ventilation features and superb durability. Doesn't it sound like a perfect package? The Direct-Drive Centrifugal Down blast Roof Mounted Exhaust Fan offers you all these and more.
Spun aluminum housing ensures utmost durability. Also, it comes with air inlets and balance wheels for noise reduction. With the unique combination of smart design and sturdy materials, this exhaust fan can provide you with top-notch service for years.
Moreover, the fan comes with a grease collection box and quick latches for reaching the motor. So, you don't have to worry about cleaning. This 19-inch centrifugal down blast exhaust fan is ideal for larger structures like hospitals, food trucks, and light industrial areas.
Pros:
Extracts more

air under higher static pressure

Comes with an emergency disconnect switch
Supports both duct and ductless roof curb
Rust and weather-resistant
Speed control with VDF and EC motor
Cons:
Too big for residential kitchens
3. Broan-Nutone 504 Exhaust Fan
The most reliable brand for exhaust fans is Broan. And Broan-Nutone 504 Exhaust Fan is no exception. This vertical discharge ceiling exhaust fan provides you maximum speed with less noise.
Are you worried the exhaust fan will mess up your kitchen decor? Then choose this one because it has white polymeric grilles that are paintable. Therefore, you can make sure the fan matches your decor.
Not to mention, the galvanized steel framework that is highly durable makes this the best kitchen ceiling exhaust fan. You can use it for years without worrying about safety, as it is both HVI and Energy Star certified.
Pros:
Affordable and long-lasting
Paintable polymeric grilles
Easy installation
Visually pleasing design
High humidity elimination power
Cons:
4. Broan-NuTone 509 Through-the-Wall Ventilation Fan
Another amazing product from Broan is the Broan-NuTone 509 Ventilation Fan. Powerful motor and polymeric blades make this fan the best through-the-wall kitchen exhaust fan.
 If you are worried about excess energy consumption, then Broan 509 is the one for you. This fan can minimize backdrafts with absolute precision using built-in dampers. And thus, saves energy.
Again, the main purpose of an exhaust fan is to improve air quality. This fan removes smoke and humidity from the kitchen. Moreover, this eliminates all kinds of contaminants and allergens from the air.
Pros:
Versatile and cost-effective
Minimizes backdrafts
Durable polymeric fan blade
The fan comes with a rotary switch
Cons:
Creates noise when in use
5. iPower HIFANXEXHAUST12CTB Variable Shutter Exhaust Fan
Want an exhaust fan that can replace your AC unit? iPower HIFANXEXHAUST12CTB Variable Shutter Exhaust Fan with its powerful cooling system can do exactly that. Apart from that, its speed controller lets you optimize cooling.
You may not always need the same ventilation power. That is why this exhaust fan comes with three different speed settings for ventilation. So you can get rid of all the smoke in a minute when you've accidentally burnt something in the kitchen.
Pros:
Fan comes pre-assembled
Can be used in barns, greenhouses, attics
Automatic gravity shutters
Three-level speed control
Cons:
Shutters not properly insulated
 What to Consider Before Buying a Residential Kitchen Exhaust Fan
Just like any other tool, you have to check specific factors before buying the best kitchen exhaust fan. That is why we have listed some key factors that you need to consider while choosing your exhaust fan.
The first thing to consider before buying an exhaust fan is, whether will it fit in your kitchen perfectly. For a small or medium-sized kitchen, a 12-inch domestic exhaust fan is good enough.
The hood should be the same size as your cooking surface. However, go for a bigger one if you have space. As bigger exhaust fans provide more functionality and durability.
Blade Material and No of Blades:
The blades are made of either plastic or metal. Metal blades last long and they are easy to clean.
Another thing to consider is the number of blades in your fan. Double blades provide advanced ventilation settings. However, a single blade may be the best kitchen ceiling fan in a residential setting.
Exhaust fans come with either vented or ductless ventilation systems. Ductless hoods are easy to install but they redirect the smoke back into your house. Vented hoods are better for both your health and your house.
Conventional exhaust fans typically have a 60 dB sound level. For residential kitchens, it is essential to get a noiseless exhaust fan.
If you are going to install the exhaust fan yourself, make sure the fan comes with a proper installation guide. Try to use an outdoor vent and a large duct so you get the most ventilation out of your exhaust fan.
Verdict
Did you find an exhaust fan that you like? We know, choosing the perfect exhaust fan for your kitchen from the overwhelming varieties is not child's play. However, all these details and guidelines will surely help you make a better choice.
Here, we reviewed 5 of the best residential kitchen exhaust fans available on the market. These kitchen exhaust fans have it all – from outstanding power to remarkable finish. Still, if we had to pick our version of the top exhaust fan, we would go for the iLiving – 16″ Wall Mounted Exhaust Fan".