Frustrated with those deep corner cabinets in your kitchen? No matter how many times you organize, it ends up being cluttered. Fortunately, there are several ways you can make the most of those deep corner cabinets.
Both lower and upper corner cabinets are deep, dark, and inaccessible. While they do offer storage, they are notoriously hard to organize. However, if you can organize them properly, they add great functionality to your kitchen.
Still, intimidated by those deep corner cabinets? Don't worry. I am going to introduce you to some simple but smart ideas on how to organize deep-corner kitchen cabinets.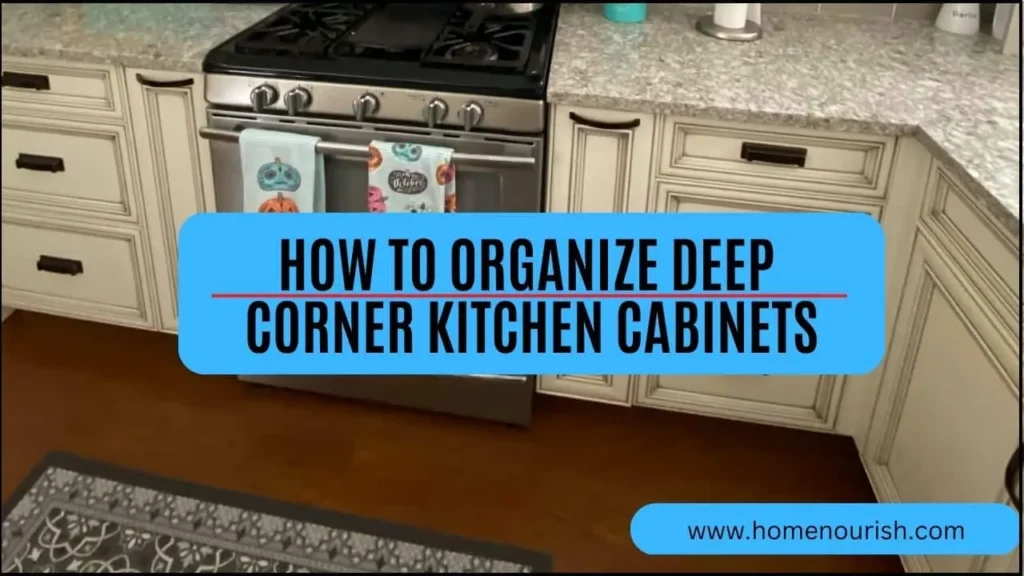 Steps to Follow to Organize Deep Corner Kitchen Cabinets
 Here I have brought to you both the traditional and unique ways to organize your deep corner cabinets.
Lazy susan and deep corner cabinets have been friends forever. These classic rotating plates have been the first choice of homeowners for years. With these, you can reach all the items easily just by spinning the shelves.
All the problems you faced with an old circular lazy susan will be solved by the new and evolved one. It not only rotates within the cabinet, but you can pull it out for effortless access. For those lower deep corner cabinets, these new lazy susan are the best.
This version of lazy susan is even more efficient. It is attached to the inside of the cabinet door. The only flaw is you cannot store items with too much weight on these shelves.
Are you renovating your kitchen and want permanent solutions for organizing the deep corner cabinets? Then check out the custom-made pull-out drawers. You can customize them according to your cabinet space.
They will remove the problem of inaccessibility. Moreover, you can add multiple drawers which will add more functionality and less clutter.
Shelf Risers to the Rescue
Not a fan of lazy susans? I have something for you too. Shelf risers can be equally effective for organizing those corner cabinets.
Shelf risers let you decide what you are storing in the back of the cabinet. They provide you with a few different heights, so you can organize items according to their weight and usability.
Wire Shelving and Pot Racks
The most budget-friendly option for organizing is wire shelving. These shelves are sturdy and you can store almost anything on them from spices to frying pans.
Pot racks are essentially like dishwater racks but you can fix them inside a deep corner cabinet. It'll offer you plenty of space to store your cookware.
You don't have to worry about storing heavy stuff. With pot racks, all your heavy skillets and pots will be safe and within reach.
You don't need lavish store-bought organizers for keeping deep cabinets organized. You can use shoe boxes in place of pull-out drawers. Empty cereal boxes can be used to store things like plastic wrap, aluminum foil, and more.
Store Less Used Items in the Back
We all have that cookware or glassware that only gets used on special occasions. Deep corner cabinets can be used for storing these occasionally used items. You can keep these in the back and put frequently used items in the front.
Do you get the urge to stuff everything you see in those deep corner cabinets? And then it's jam-packed and you can't access anything!
Stop doing it now. Store items in a way so that everything can be seen and accessed easily. Just because there's a huge space doesn't imply you pack every inch of space.
Lower deep corner kitchen cabinets are an ideal solution for pull-out garbage and recycling system. They offer many benefits like keeping your mess hidden away and maximizing the space of your kitchen.
Final Thoughts
So, which idea did you like the best? However, choosing a solution that will suit your kitchen needs can be tricky. These solutions will help keep your kitchen cabinet clean.
Before settling on one, consider what you'll put in the cabinet, how much space your cabinet offers, and how often you need to access those items. Take your time and choose the approach that works best for you.