Carpet dryers and air movers are mainly motor fans. It provides a constant blast of air at a high speed to dry out wet carpets and others within a very short time.
The process of drying anything that takes a lot of time is really irritating. But it's also necessary to do a deep cleaning of the carpets very often. For this reason, having an air mover carpet dryer is a must-have product to make the drying job easier.
In this article, from so many models we've reviewed the top 5 best air mover carpet dryers along with their characteristics. So, stay with us.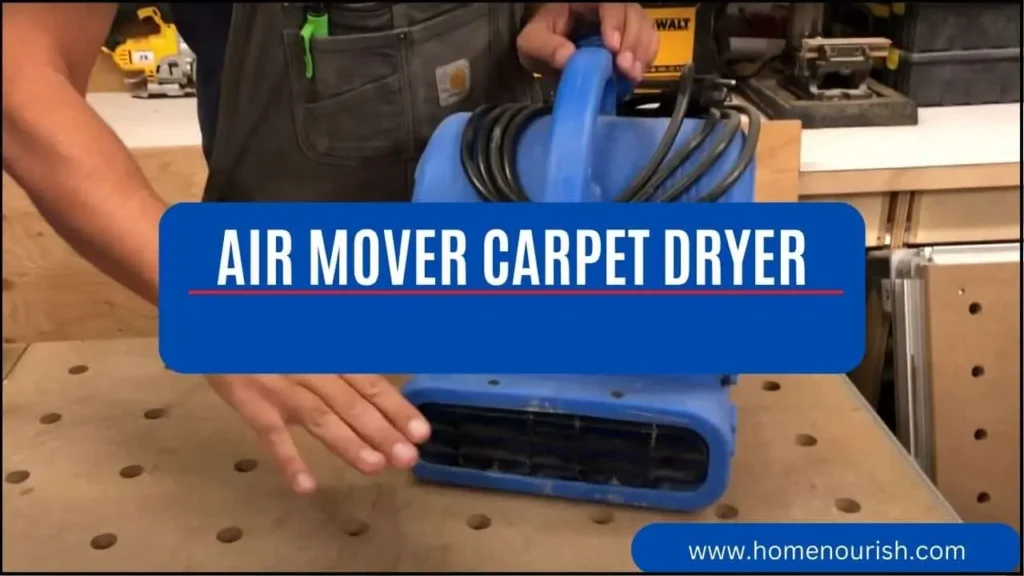 Here is a List of the Best Floor-Dying Fan
If you have pets or children in your home, then it's more important to clean the carpets very often. With advanced technology, the air mover carpet dryer has made our work so easy and fast.
After some research, from so many models, we have listed the top 5 air mover products. And hopefully, these products will not disappoint you.
1. MOUNTO 3 – Speed Air Mover Carpet Dryers
Important Features at a Glance:
Dimension is 19 x 19 x 19 inches.
It has 3 directional angles for multi-use 0, 45, and 90 degrees.
Super high-velocity power, because the carpet dryers have 4000cfm.
1 hp motor and 3-speed settings.
15 feet attached cord.
Description:
This powerful 4000+ CFM with 1HP and 3-speed settings air mover is perfect for drying the carpets within minutes. Even for making the job easier, it has three different operating angles. The velocity is so high and strong that the blast will move the air within seconds.
In fact, this reliable heavy-duty roto mold lasts for years. This high cfm air mover includes a handle and wheel for maneuvering and easy moving. Besides drying, you can use this machine for cooling and ventilation as well. Whether it's any commercial place or home, you can easily carry out your job using this product.
For fast and easy drying, it can be the best choice for you. With its great performance and flexibility, this MOUNTO floor blower carpet dryer will definitely give an excellent addition to your home or workplace.
Pros:
Extreme powerful blast
Stackable for 3 units
Durable
Heavy duty
Multi-use purpose
Cons:
2. Max Storm 1/2 HP Durable Lightweight Air Mover Carpet Dryer
Important Features at a Glance:
Dimension is 5 W X 16 L X 19.5 H inches.
It has a 2-speed setting that dries the floor super-fast.
You can use it at 3 different angles 0, 45, and 90 degrees.
1/2 hp motor and 5 amps.
Efficient and convenient handling because of its 25 feet power cable and 25-inch power cord.
Doesn't create heat.
Description:
This highly portable air blower fan quickly dries the floor, carpet, and walls just by using the two-speed settings. It comes with a powerful velocity that is enough for any professional use.
Furthermore, the 3 operating angles help to blow the air at any corner of your home or workplace. Actually, this Max Storm carpet dryer has heavy-duty construction and professional performance. And so, if you're looking for an air mover for a rugged and commercial environment, then you won't regret buying it.
Without any trouble and hassle, you can operate this blower at your home and office. Also, for your convenience, 35-foot power is included for an easy setup. Due to its size and shape, you can easily carry it, and can fit into any small space.
Pros:
Compact and portable
Three operating angles
Optimal flexibility
Low power consumption
Highly efficient for professionalism
Cons:
3. Soleaire Super Monsoon Air Mover Blower Fan Carpet Dryers
Important Features at a Glance:
Dimension is 19.5″ L x 21″ W x 21″ H inches.
Allows 3 different speed settings.
With a 1 hp motor and 10 Amps.
Contains a 25-inch power cord and an attached cord 10 feet.
Description:
As Solitaire delivers the strongest carpet-blowing result, it can be considered one of the best commercial air movers. For harsh commercial places, you can use it effortlessly.
The heavy-duty construction of this model is really impressive. For carpet, garage hallway spills, and paints it works great. On top of that, this powerful unit has all the safety certifications from CE as well. The heavy-duty 1 HP motor comes with three operating features for general cooling and circulation.
The improved design and technology of this model are stronger enough to move a massive amount of air within seconds. Hence, if you are looking for a long-lasting and durable air mover for commercial and industrial environments, then it can be the perfect choice for you. For quick cleaning and drying, take the benefits of Soleaire super monsoon.
Pros:
Stackable
Built-in cord wrap
High velocity
Massive air mover
Commercial grade
Cons:
4. B-Air Grizzly CFM Air Grizzly Mover Carpet Dryer
Important Features at a Glance:
Dimension is 19 x 18 x 18.5 inches
This blower has 3 operating angles 0, 45, and 90 degrees.
1 hp motor and L 8.7A / M 9.2A / H 10.6A
It has 25 feet attached cord.
The max static pressure of this carpet dryer is 3.1 inches.
Description:
B-Air carpet dryer provides a variety of features including power, portability, durability, and many more. It uses 4 different angles and 3 different speed modes to control air circulation. In addition, this unit product is ETL certified.
For commercial use, you can rely on it because of its well-devolved quality and features. This versatile air mover carpet dryer is the best blower fan due to its versatility and top-notch quality.
The appealing look and features of this particular model are very effective for different sets of jobs. It is very easy to carry and comes with a safety lock for use with a ducting kit.
Therefore, if you're seeking a versatile carpet dryer, then certainly it can be your top pick.
Pros:
Roto-molded polyethylene housing
Prevents fur and debris buildup in the dryer
Duct drying kit
Wide range of application
Cons:
5. OdorStop OS2800 Heavy Duty Air Mover and Carpet Dryer
Important Features at a Glance:
Dimension is 19 x 18.75 x 16.5 inches.
It has 25 feet yellow color power cord.
The motor is powerful with 3/4 hp and 2800

CFM

housing and 6.8 amps.
It does not require batteries.
Description:
If you need a heavy-duty commercial carpet dryer blower to hold up tightly in extreme conditions, then you'll be glad to use this product. The 3/4 horsepower with roto-molded housing will surely impress you with its excellent service.
For safety and visibility, the 25-foot power cord is in yellow color. For more improved functionality the air mover facilities a daisy chain. The most amazing part is the OdorStop air mover holds a carpet clamp to keep the carpet in position for quick drying.
So, for a strong and enhanced operation, try this amazing product. And hopefully, you will be highly satisfied with its performance.
Pros:
Longer power cord
Easy storage
Powerful motor
Superb performance
Unbreakable poly housing
Cons:
Does not allow vertical intensity change
Guide – Best Air Mover Carpet Dryer
To get the right air mover carpet dryer, go through the following buying tips. And choose the best portable air blower carpet dryer for your use.
For optimal performance, getting a high-speed air mover with a well-built construction is highly recommended. The more strong the motor and vacuum cleaner, the more it catches debris and furs efficiently.
Thus, for more coverage and better air circulation, the speed and strength should be at the peak level.
For high performance and efficiency, a 1HP air mover carpet is enough to meet the necessity of the job. Also, if you want to take the noise level into consideration, then you might go with a ¼ HP motor.
However, the motor power and its performance totally depend on your need and where you're going to use it.
For easy storage and portability, choose the lightest unit carpet dryer. So, before purchasing, check the weight and how much space it will consume.
Conclusion
We have taken several factors into consideration and selected the top 5 best air mover carpet dryers for you.  Hopefully, this article would help you a lot to purchase a quality carpet dryer for your home or workplace.
Be selective and buy the best air mover carpet dryer because these amazing products are truly necessary for cleaning and drying carpets.